THE OLDEST BOOKS
RELATING TO
EVERINGHAM HISTORY
"Pre 19th Century" AND
BOOKS ABOUT LIFE PRIOR TO THE 1800's
or Family Related "COLLECTORS BOOKS"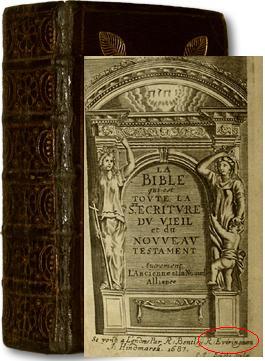 In the 1600s, a printer named Robert Everingham (1645-1705) printed bibles and many other various books. Although these show up at auction occasionally, they fetch a high price, usually from $500 up to $2000+. I have not been able to outbid book collectors yet. So, we will try to get photos of some of these old books and try to find out more.
---
Some Years Travel Into Divers Parts of Africa and Asia the Great, More Particularly the Empires of Persia and Industan: Interwoven with Such Remarkable Occurrences as Hapned in Those Parts...; As Also.....Oriental India with the Isles Adjacent.... by Thomas HERBERT Printed by R. Everingham 1677 4th Impression. The best edition of this classic travel work, a very good copy in contemporary full calf. Have found this book selling for ~ $1,900 to $2,250.



---
Fruit walls improved, by inclining them to the horizon: or, a way to build walls for fruit-trees; whereby they may receive more sun shine, and heat, than ordinary. by Nicholas FATIO DE DUILLIER Printed by R. Everingham 1699 128pg. The author (1664-1753), of Swiss origin, came to England in 1687. Elected a fellow of the Royal Society for his mathematical reputation, he became tutor to the Marquis of Tavistock. Have found this book selling for ~ $1,200.



---
The Vanity of Arts and Sciences: by AGRIPPA (Henricus Cornelius) 1694
Printed by R. Everingham for R. Bentley and Dan. Brown, 1694 With an engraved portrait, pages (18),368, 8vo, contemporary panelled calf. Agrippa von Nettesheim (1486-1535), German occultist philosopher had a varied, if insecure career as a physician, diplomat, teacher and soldier, arousing the hostility of the Inquisition by his defence of a witch.
Have found this book selling for $550 to $650.



---
Merlinus Anglicus Junior: or the Starry Messenger..... 1704
Printed by Robert Everingham London, Title in red and black, 2 woodcut illustrations in the text, 48 pp.
Have only found this selling as part of a large set $2000+



---
Moral Maxims and Reflections In Four Parts. Written in French by the Duke LA ROCHEFOUCAULD 1694 M. Gillyflower and J. Everingham, 1694 Moral Maxims and Reflections. In Four Parts. New made English. London: Printed for M. Gillyflower and J. Everingham, 1694. First edition in English.Twelvemo. [48], 196 pp. Engraved frontispiece. Nineteenth-century three-quarter brown calf over brown cloth boards, spine lettered in gilt, burgundy morocco gilt lettering label.
Have found this book selling for $1,000.



---
De Mirabilibus Pecci: being the wonders of the Peak in Darbyshire, commonly called The Devil's Arse of Peak. William Crook 1678 W.Everingham and T Whitledge, 1694 Bound in calf with gilt spine titles. 85+pg.
Have found this book selling for $500 to $850.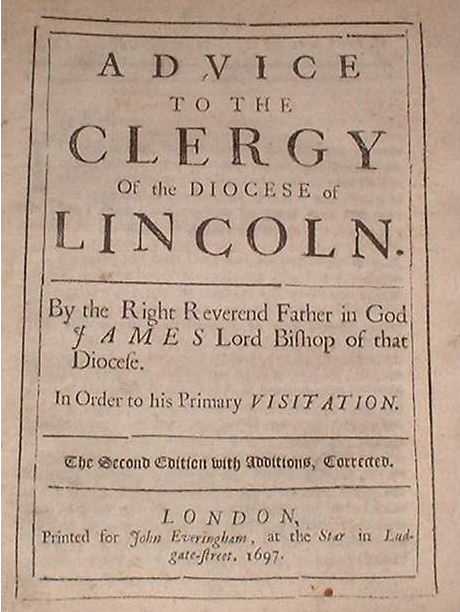 ---
Advice to the Clergy of the Diocese of Lincoln
printed for John Everingham 1697.
~35pg. This book is said to have a list printed in it, of other books printed by "EVERINGHAM".

If you purchase a book relating to Everingham family history or printed by an Everingham, I would LOVE to hear about it, and see a picture!I have found this book selling for $125-$200
& have even seen it listed on eBay a couple of times!
---
A SERMON PREACHED IN S. LAWRENCE-JEWRY CHURCH ON THE FIFTH OF NOVEMBER, 1678 by Bedle, Joseph, R. Everingham, London. 28 pages, disbound.
I've found this book for sale for about $80.

---
Eight Sermons Preached On Several Occasions April 30 1695 by Whaley, Nathanael (Rector of Broughton in Northamptonshire), Printed for John Everingham at the Star in Ludgate-Street, near the West End of St. Paul's Church-Yard. Full Calf. First Edition. 12mo - over 6¾" - 7¾" tall. Imprimatur, Carolus Alston. 308pp. A rare book.
I've found this book for sale for about $1,300 to $2,000.

---
England's Improvement By Sea and Land, 1677 To Out-do the Dutch without Fighting, to Pay Debts without Moneys, to set at Work all the Poor of England with the Growth of our own Lands. by Andrew YARRANTON, Printed by R. Everingham.
I've found this book a few times for sale between $1,200 and $2,000 to nearly $5,000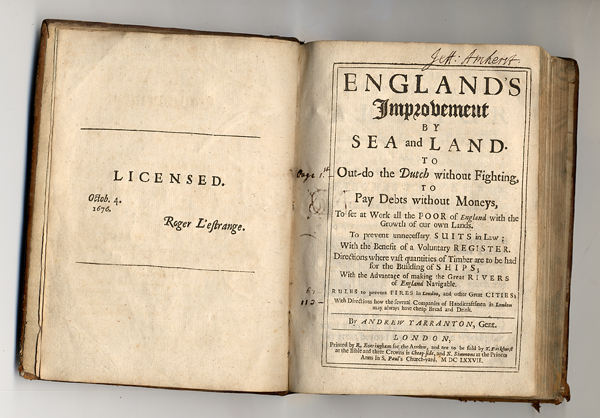 ---
De Re Poetica: or, Remarks upon poetry. With characters and censures of the most considerable poets, whether ancient or modern. Extracted out of the best and choicest criticks. Sir Thomas Pope BLOUNT Printed by Richard Everingham, for R. Bentley 1694 . 248pgs.
Have found this original book selling for $400-$950.
NOTE: In 1969 & 1972, a re-print of this book was done which sells for $30-$40.



---
Miscellaneous Essays: (Saint Evremont) By Monsieur St. Euremont. (1613-1703) was exiled in 1663 for criticizing Mazarin's treaty with Spain (1659) and spent the rest of his life in the English courts of Charles II, James II, and William III. Translated out of French. Continued by John Dryden, Printed for John Everingham, 1692 . 376pgs.
Have found this book several times, selling for $800-$1,000.



---
Historical Collections Concerning Church Affairs By Lowth, Simon. 1696 . 546pgs. 7¾" - 9¾" tall. McAlpin [bound with] Reflexions on a Pamphlet entitled Remarks on the Occasional Paper. by Hum. Hody. London, by T. Snowden, for John Everingham. 1698. [bound with] Excerpts From the Ecclesiastical History. by Simon Lowth. London. George Strahan. 1704. [bound with] An Answer to Some Queries Concerning Schism, Toleration, etc. by Henry Gandy. McAlpin p. 630. London. 1700. [bound with] A Letter In Vindication of the Answer to the Queries Concerning Schism and Toleration. by Henry Gandy. London. 1701.
Have found this book rarely, selling for $500.



---
Treatise on the the Three Medicinal Mineral Waters at Llandrindod, in Radvoshire, South Wales... By Diederick Wessel Linden, M.D. Published by Everingham and Reynolds, London, England 1756 .? pgs. "remarks on mineral and fossil mixtures in their native veins and beds; at least as far as respects their influence on water."
Seems to be quite rare, but have found this book selling for $250 to $500.



---
The American Negotiator: the Various Currencies of the British Colonies in America; as Well the Islands, as the Continent., the Currencies of Nova Scotia, Canada, New England, New York; East Jersey, Pensylvania [sic], West Jersey, Maryland... and of the Islands of Barbadoes, Jamaica, St. Christophers... by John Wright,
Originally Printed by J. Everingham, 1761 510 pgs.
Sold at auction April 2011 for $4500 (see picture below)
Have found this only in paperback facsimile copies (photo copies), selling for $60 to $160.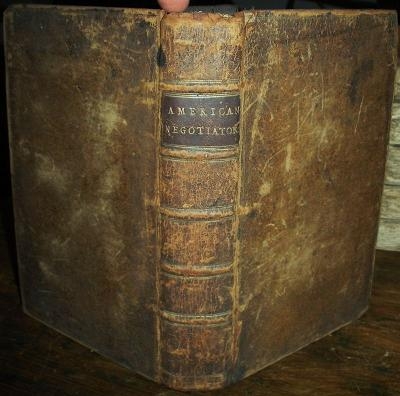 ---

Modern Books about Early Everingham History;
CONSTABLE OF EVERINGHAM ESTATE CORRESPONDENCE 1726-43, By Peter ROEBUCK. Printed for the Yorkshire Archaeological Society, Leeds, Brown cloth with gilt colophon to front cover and gilt titles to spine. Illustrated frontispiece. actually published in 1976, included here for it's historical content. 172pgs.
This book is commonly found, selling for $30.



---
Yorkshire Baronets, 1640-1760: Families, Estates and Fortunes By Peter ROEBUCK. University of Hull, The Hothams; The Beamonts of Whitley; The Constables of Everingham & The Brights of Carbrook: well researched and throws much light on Yorkshire life in the 17th and 18th Centuries. actually published in 1980, included here for it's historical content. 414pgs.
This book is commonly found, selling for $30.



---
A History of St. Everilda's Church and the Village of Everingham by Henry Stapleton over 7¾" - 9¾" tall. A 28 page history of the church and village.. actually published in 1965, included here for it's historical content. 28pgs.
This book is not commonly found, but sells for $10 or less.



---
Everingham Girls by M. Bramston Published by the London Society for Promoting Christian Knowledge, Hardcover, This book usually has no date but was printed in the late 1800's and early 1900's, 220 pp. Sunday School presentation label inside front cover.
found selling by collectors for $75 to $110 in poor to good condition.



---
Do you know of other books?
Send book information to:


Do you have old books?
know where to buy them,
or have old books to sell?



To Search for Collectable Books, try: www.bookfinder.com