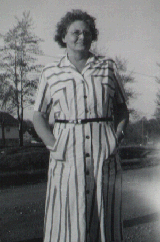 Photo:
Mae Badgero-Bowers.

Tombstone next to Evaline Badgero in Sanilac Co.,
Reads: Mae L. and Howard Greenwood.

information from Sheryl Badgero Talley
Photos from Lynn Bowers-Patterson (& Neva Springsteen)
---
Research of Kevin Everingham of MI

1916 Presque Isle Co. MI Marriage -- Film #2342717 image 161 ... Elmer L. Bowers, 26, b.MI s/o Wm. Bowers & ___ Waterhouse,... and .... May Badgero, 18, b.MI, d/o Chas. Badgero... married 24 Dec 1916 Onaway, Presque Isle County, MI.

1920 CENSUS Marquette, MI (film#1820784) Sheet 12,... Elmer Bowers 28, b.MI, married.... May, 22,wife, ... Ward 4m.

1940 CENSUS Indian Fields twp, Caro, Tuscola County, MI... Howard Greenwood 34,.. Mae Greenwood 42, wife,.. Charles Greenwood 13, son,.. Robert Greenwood, 11, son.