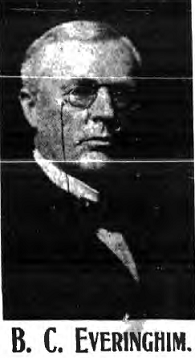 fact sources and writings about this individual:
Research of Kevin Everingham of MI, 2013:

1850 Yorktown, Westchester, New York (house #79, family #88)... Henry Everingham 30, b.NY,.. Rebecca Everingham 21, b.NY,.. James Everingham 2, b.NY,.. Maria Everingham 1, b.NY This appears to be James & Benjamin's parents, Benjamin was likely born shortly after this census. Both Benjamin & his mother Rebecca claim to have been born in Yorktown, NY. There are records that say Benjamin was born 1849, and some say 1850, because of this census I believe the 1850 date is correct.

1876 New York Birth Record.. Benjamin Currey Everingheim, male, b.2 Aug 1876 at Manhattan, NY, NY, father; Benjamin Currey Everinghein & Lucinda Haulenbeck

1877 New York City directory shows: "Benjamin C. Everinghim, clerk, 39 Park."

1880 CENSUS Peekskill, Westchester, NY (Page 91D, #4142)... Benjamin C. Everingham 29, b.NY, manager of Christian Weekly, parents b.NY,.. Lucinda Everingham 27, b.NY, wife,.. Benjamin C. Everingham 3, b.NY, son,.. Violet Everingham 2, b.NY, dau,.. Maggie M. Clune 14, b.NY, other.

1887 The Eastern State Journal, White Plains, April/May, 1887..."Peekskill news section... Mr. B.C. Everinghim has been appointed a member of the village board of health in place of Mr. James Hart, resigned."

1888 The Cold Spring Recorder, Saturday, June 30, 1888... "Mr. Ben. C. Everinghim, of Peekskill has some 1,400 roses in bloom and bud on the lawn in front of the premises on South street, by actual count."

1895 The Highland Democrat, Oct 12, 1895.. "Mrs. Rebecca Currey Everinghim died at her home, 1112 Brown Street, this village on Monday evening last after a brief illness. Mrs. Everinghim was born in Yorktown some 66 years ago, and all her life was spent there on the old homestead and in Peekskill. She married in 1845. She was a member of St. Paul's M.E. since its organization. The funeral services were held at that church on Thursday. Two children, Mr. Benjamin C. Everinghim of Peekskill, and Mrs. Matthews of New York, survive, also three brothers, James H., Benjamin and Jonathan B. Currey, and two sisters, Mrs. Grove P. Mitchell and Mrs. Secor. "

1900 CENSUS Peekskill, Westchester, NY (Page 19A family #466).. Benjamin Everinghim 50, b.June 1849 NY, occ: Advertising Agent,.. Lucinda Everinghim 45, b.Sept 1854 NY, mother of 3, 3 living,.. Violet H. Everinghim 22, b.Feb 1878 NY,.. Daisey C. Everingham 16, b.Dec 1883 NY.

1903 Mini-Biography of Benjamin C. Everinghim of NY
from the Highland Democrat, Peekskill NY, July 4, 1903.

1910 New York Daily Tribune, Jan 22, 1910... "On Friday, Jan 21, at the Eagle Hotel, Peekskill, NY, suddenly of pneumonia. Benjamin Currey Everinghim, in his 59th year. Funeral services Sunday, Jan 23. Interment at convenience of family."
1910 The Highland Democrat (no date)... The regular Lincoln dinner given by the Lincoln Society was abandoned because of the death of Benj. C. Everinghim.

1914 The Highland Democrat, Nov 28, 1914... "Mrs. Catherine, widow of Garritt Haulenbeck who had been visiting her daughter, Mrs. B.C. Everinghim at 729 South Street, for about three weeks, died there on Thanksgiving Day. She was not a stranger here as she had in bygone years lived withher daughter, Mrs. Everinghim. She was born in 1825 in New York City, but early in her married life made her home in Norwalk, Conn. Her husband, Rev. Garritt Haulenbeck, a preacher of great power in the Methodist church, was a local preacher and he and his wife worked in many churches about Norwalk for 58 years. She is survived by a daughter, Mrs. Everinghim and a son, Charles Judson Haulenbeek of Brooklyn NY."

1948 The Evening Star, #36, Peekskill, NY, Thur. Feb 12, 1948... "The Peekskill Lincoln Society, the oldest group of its kind in the United States, will hold it's forty-fifth annual Lincoln Day banquet... long a major event on the Peekskill social calendar, dates back to 1903 when the late Benjamin C. Everingham founded the society to honor the memory of Abraham Lincoln."