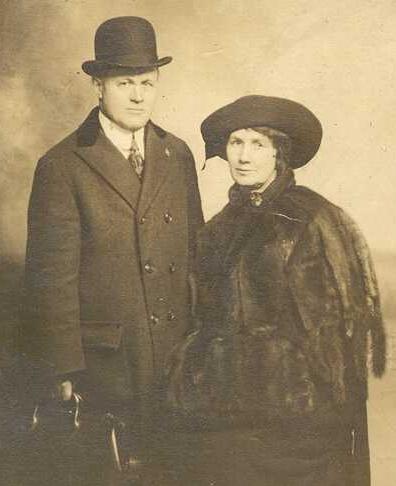 Photo of Blair Bratton & Celia A. Everingham
original owned by Sandy Canterbury

fact sources and writings about this individual:

1Information from Sandy Canterbury

2V.165, pg.201, application#266503 issued July 13, 1931
Cuyahoga County Ohio Archives (Marriage Records)
Blair H. Bratton, age 58, of 11730 St. Clair Ave., born in Altoona, PA, occupation; Telegrapher, son of John H Bratton & Margaret Cherry, previously married (dec'd)
Celia A. Everingham age 52, of 11730 St. Clair Ave., born in Canada, daughter of James Everingham & Martha Jarden, previously married to ___ Wensley, divorced 1923 Niagara Falls, NY.
Marriage solemnized by M.J. Petty, Warrensville, O., license issued by Frank Zizelman, Deputy Clerk.