Claudette Ann Platte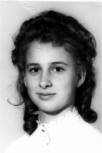 Newspaper Article / Lansing, MI 1962
Teen Girl Is Burned
A teen-age girl suffered burns that covered more than half of her body friday afternoon when she threw water on a pan of burning grease.

Lansing Firemen said the blaze caused an estimated $125 damage to the home of Richard Platte, 325 E. Mason St.

The victim, Claudette Platte, 14, was in "satisfactory" condition Saturday at Edward W. Sparrow hospital with second degree burns on her arms and legs.

Hospital attendants told fire department officials they are attempting to prevent dehydration of the burned area. The critical period will be Monday, they said.

continued...
Firemen said the girl was making french fried potatoes and was alone when the grease burst into flame. She told firemen that when she threw a pan of water on the flames, the grease exploded.

The girl said she grabbed a towel and pulled the pan off the stove, spilling it on herself.

A neighbor reported the fire, which was confined to the kitchen. The stove, cupboard door and floor were burned, firemen said.
---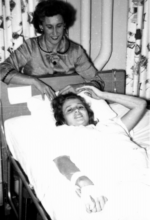 Claudette (age 14) in hospital, with her mother.


follow up story:
Sick, Injured
Claudette Platte, 14 of 325 E. Mason St., who was seared by a pan of burning grease Friday afternoon at her home, was reported in fairly good condition Tuesday at Edward W. Sparrow hospital.
Back to Claudette's
Family Page