children:
unknown


Wedding photo of Dianne from the Buffalo Evening Newspaper, January 14, 1956
siblings: EVERINGHAM
Roger James
fact sources and writings about this individual: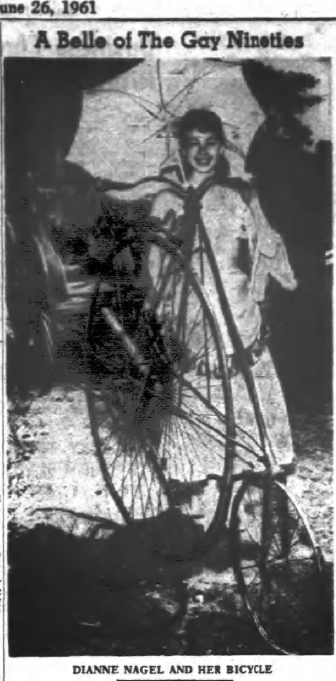 Research of Kevin Everingham of MI 2017
Photo right, from the Newspaper, 1961
1956 Tonawanda News, Tue., Jan. 17, 1956.. "Miss Everingham becomes bride of William LaMond. Rev. James C. Wardlow of St. Paul's Chapel, Harris Hill officiated for the daughter of Mr. and Mrs. James M. Everingham of Williamsville and the son of Mr. and Mrs. William A. LaMond of S. Irving Terrace, Kenmore. The brother of the bride, Roger J. Everingham was best man and ushers were Anthony C. Potenza and Kevin J. Loos."
1956 Buffalo Evening News (photo above), Sat. Jan. 14, 1956.. (wedding announcement again with photo above). This article also gives her brother's full name "Roger James Everingham".
1961 Buffalo Evening News, Buffalo, N.Y., Monday, June 26, 1961 (photo right).."Melody Fair welcomes back Williamsville's Dianne Nagel. She made her professional debut there 4 years ago, will return in a chief supporting role. Dianne Nagel, a pretty Buffalo brunette, who appeared breifly four seasons ago at Melody Fair, returns this week in a key supporting role in the musical tent's (Take me Along). In 1957, fresh from her junior year at the University of Buffalo, Dianne entrained for Broadway. Although Dianne often visits her parents, Mr. and Mrs. James M. Everingham, Williamsville, this is the first time her career has brought her to her home town since 1957. "