fact sources and writings about this individual: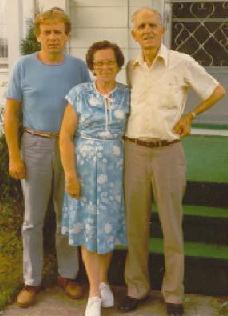 wife: "Ruth" was born 6 May 1914 in Chatham, Kent Co. Ontario, Canada. On April 1, 2005, Rhonda Long of London, Ontario notified us of Ruth's passing: "EVERINGHAM Ruth P. (Dixon), 91, formerly of Bothwell, died March 25., BADDER FUNERAL Published March-28-05 London Free Press." see obituary link above sent by Roger Harris.
Photo Right, given to Roger Harris by Floyd are (l-r) Bob, Ruth & Floyd.
Funeral Card sent by Roger Harris, Jan 2003;
In Memory of MR. FLOYD I. EVERINGHAM, 136 Oak Street, Bothwell, Ontario. Born Bothwell, Ontario, May 27, 1907, aged 81 years, passed away at Four Counties General Hospital, Newbury, Tuesday, October 25, 1988.
Resting at Don Robinson Funeral Home, 230 Elm Street, Bothwell, Ontario. Funeral and committal services, Don Robinson Funeral Home, Thursday, October 27, 1988 at 2 p.m., Officiant, Rev. Loan E. Horachek, Bothwell United Church. Interment, Bothwell Cemetery.
---
Chatham Daily News -- 23 Oct 1940
Bothwell, Oct 23 -- Bothwell United Church was the setting for a pretty wedding on Saturday afternoon, October 19 when Miss Ruth Patricia Dixon, eldest daughter of Mr. and Mrs. James Dixon was married to Floyd I. Everingham, son of Mr. and Mrs. Wesley Everingham, Bothwell. Ferns and Autumn flowers formed a background for the ceremony which was conducted by Rev. B.H.Green. Miss Ruth Tandall was at the piano.
Given in marriage by her father, the bride wore a graceful gown of blue velvet with shirred jacket, small matching hat with nose length vail, silver slippers and long white gloves. She carried a bouquet of Briarcliffe roses. Her only attendant, her sister, Miss Jean Dixon, was similarily frocked in wine velvet, similar to that of the bride, with matching hat, gold slippers and white kid gloves; her bouquet was of Talisman roses. The groomsman was Mr. David Brown.
Immediately following the ceremony, a beautiful leather bound Bible was presented to the bride and groom by Mr. J.J.Vincent on behalf of the congregation. During the signing of the register, the bride's brother, Mr. Ted Dixon sang "At Dawning". Following the ceremony a reception was held at the home of the bride's parents, where tables were set for about 50 guests. The bride's table was centred with the wedding cake, decorated in pink and white and flanked by long white tapers in silver holders. After the reception, Mr. and Mrs. Everingham left by motor for points East and will make their home in Bothwell. Guests were present from Amherstburg, Detroit, Windsor, London, Burford, Brantford and Bothwell.