fact sources and writings about this individual: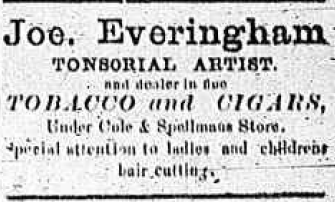 Ad (right) from the Castilian Newspaper, 1889, note: A Tonsorial Artist is a "Barber".
Notes for MARY J. ????:
Her father was born in NY but her mom was born in England. Mary had apparently died before the 1910 census of Wyoming Co as Joseph & son Glenn were living with Lottie & her husband Fred.
1Notes for LOTTIE B. EVERINGHAM:
Married Fred C. Stoddard. There is some confusion with her first name. 1900 Census it is "Leitre B." The 1910 Census calls her "Lutie B." She was apparently called "Lottie" In 1910 she still had no children.
Notes for FRED C. STODDARD:
Both of Fred's parents were born in NY State. He worked at the Salt Works in 1910 & had been married without children for six years. His wife's father & brother lived with them at 7B Main St, Silver Springs Village, Wyoming Co, NY., according to the 1910 Census for Gainsville Twsp. They did not appear there in 1920.
2Notes for GLENN W. EVERINGHAM: In 1900, Glenn is living at home with his parents at Silver Springs, Wyoming Co NY. In 1910, he is still with his dad & sister, but his mom is not there and his brother-in-law Fred C Stoddard is listed as the head of the house. Glenn must have still been attending school that year.
Research of Kevin Everingham of MI...
1907 Silver Springs Signal, NY Newspaper April 11, 1907... Mrs. Joseph W. Everingham died at her home in this village Monday evening, April 8, 1907, after many weary months of suffering. Mrs. Everingham's illness dates back almost to her girlhood, but she bore her sickness so uncomplainingly that it was scarcely known outside the home circle until the past year or so. Her husband and her daughter & her husband, Mr. and Mrs. Fred Stoddard, have been untiring in their efforts for her comfort and have given almost their entire time the past few months to her care. Mary J. Howard was born in Michigan August 11, 1867, and when about two years of age she moved with her parents to Dale, This country. She was married to Joseph W. Everingham Sept. 8, 1883 at Warsaw and they have since resided in this vicinity, manily at Warsaw, Castile and Silver Springs. Unto them were born two children, Mrs. Fred Stoddard, and one son, Glenn Everingham, aged 13 who with the husband survive.
1915 NY Marriage Record... Joseph W. Everingham 53, s/o William Everingham & Susan Gaffin.. married... 15 June 1915 at Wyoming, NY to; Helen Bowen 50, d/o Isaac Torah & Mary Smith.
1920 NY Marriage Record... Glenn William Everingham 26, b.Castille, NY, of South Street, Genesee, NY, occ: watchmaker,.. s/o Joseph W. Everingham & Mary E. Howard,... and Catherine Barrows Balding 19, b.Leroy, NY, of 50 Tracy Ave. Batavia, NY, d/o Harry G. Balding & Mary L. Barrows,.. married January 28, 1920 at Genesee, New York.
1930 Angelica Advocate Newspaper, Allegany, NY,..March 6, 1930... Mrs. Helen Torah Ervingham passed away at 6 o'clock Saturday afternoon at Canaseraga. She has been ill a long time. Funeral services at the Birdsall M.E. church, Tuesday afternoon at 2P.M. Mrs. Ervingham is a sister of George and Walter Torah.
1930 CENSUS Gainesville, Wyoming, NY (Sheet 7B fam# 170).. Fred Stoddard 50, Lutiebell 44,.. Laverne 17,.. Joseph Everingham 68, father-in-law.
1940 CENSUS Silver Springs, Gainesville, Wyoming, NY (sheet 8B, fam# 178).. Frederick Stoddard 59, b.NY,.. Lutibelle 54, b.NY,.. Joseph Everigham 78, father-in-law.
Death: Oct. 13, 1942
Resident of this village for the past 50 years, suffered a heart attack in the home of his daughter Mrs. Fred Stoddard. He was removed to the hospital where he passed away. Born in Warsaw, son of William and Susan Gaffin Everingham. He married Miss Mary Howard in January 1884, who passed away April 8, 1907. To them were born 2 children, Mrs. Fred Stoddard and Glenn Everingham of Geneseo, who survive. His second wife, Helen Torrey Bowen died in 1932. A tailor by trade, worked for many years in the Sammett Clothing Store here. Later, he was employed at the Erie Depot for 18 years and for the past 6 years, even up to Monday, he had charge of the L.R. Grover Gas Station. Burial was in the family plot, beside his first wife, in the Warsaw Cemetery.