Lyman & Marge in 1944
click picture to see them in 1953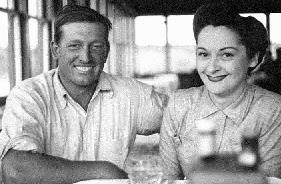 fact sources and writings about this individual:

Lyman moved to Ontario from Michigan.

"My dad, Lyman Earl Everingham was born in Gladstone, MI and at approximately at age seven, his mother who was a West, died. His father Adolphus Daniel Everingham decided to head to California to search for gold and possibly join his father Lyman ? Everingham. My dad, Lyman, and sister Laura went to live with their Uncle "Bud" Charles W. West in the Rochester area. Bud was married to Mary who was from Ontario, Canada. Bud had a sister named Kate and their dad had a hotel in Webster, N.Y. Lyman met marge when she visited the French River Lodge with friends... He obtained her address and phone number in toronto and in the fall, started courting her..."
John L. Everingham 1999

---

CLICK ad to see Lyman
and son John L. Everingham

Information provided by Roger Harris of Ontario CANADA;

"Lyman and Margaret owned a fishing & hunting lodge from 1945/6 til about 1960 when they sold it. It was where the French River and Pickeral River meet. Margaret's the 2nd of 3 girls. Katherine Odbert Pettie is her older sister. She married Leonard MILLS and had a boy and a girl-Leona (Mills) Jones w/o Carl Jones. They are the informants and presently live in Guelph, Ont. Her mom is still living. Her younger sister is Dorothy Pettie who married Mr. McIlwie. These 3 girls are children of William Odbert Pettie and Alta May Forde."

Research of Kevin Everingham of MI
1910 CENSUS Gladstone, Delta, Michigan (Page 3, family #46)... Adolphus Everingham 38, b.MI,.. Annie 35, b.MI, wife,.. Adolphus 10, b.MI, son,.. Laura 6, b.MI, dau,.. Lyman Earl 4, b.MI, son.

1915 STATE CENSUS Irondequoit, Monroe, New York (Page 9 fam #263)... Charles West,.. Mary West,.. Lyman Everingham, nephew.

1920 CENSUS Monroe County, New York (Sheet 8)... Charles W. West 41, b.MI,.. Mary J. West 42, b.CAN,.. Lyman E. Everingham 14, b.MI, nephew.

1932 U.S. Border Crossings from Canada, Alien Arrivals at New York... Lyman Earl Everingham, born Gladstone, MI, age 26y, 4m,.. arrived at Buffalo, NY on January 21, 1932... arrival contact; Uncle Chas. West., no photo.