fact sources and writings about this individual:

1Much of the information on Lloyd was supplied by brother "Al" and niece Judy Lombard, 1999.
2Lafayette Cemetery Onondaga Co. NY
3Information given by letter or phone.
4S. Onondaga Cemetery Onondaga Co. NY

5Social Security Death Index - SSN issued to Lloyd in NY.

further research of Kevin Everingham of MI, 2000-2010
1935 Syracuse Journal, Thursday, May 23, 1935,... "Lloyd R. Everingham, co-captain of the cross-country team last fall, and a member of the Student Senate, Corpse and Coffin, Spiked Shoe, and Nu Gamma Phi honoraries, will teach physical education and mathematics in Hannibal High School. He is the son of Mr. and Mrs. Robert Everingham of Nedrow."

Herald Statesman Newspaper, NY August, 1938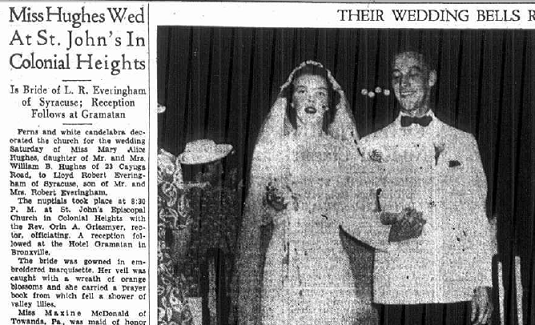 ---
Syracuse Herald Journal June/July 1944


Wanted to Get A-Test Over,
Everingham Writes Mother

The prevailing attitude of all hands at Operation Crossroads, just before the atomic bomb test, was to "get it over with," according to Lt. Lloyd R. Everingham, on the USS Avery Island who wrote to his mother, Mrs Lyda Everingham 180 Hudson st. the night before.

Lt. Everingham said that he had been working 14 to 18 hours a day regularly to get ready. "Tomorrow is the day of the 'big boom'," he wrote on June 30. "I think it would be a patriotic gesture if they would postpone it until July 4 (some firecracker), but I guess only the weather man could arrange such a coincidence. Besides, no amount of patriotism could dispel the prevailing attitude of all hands in favor of getting it over with at first opportunity.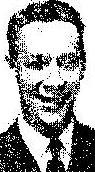 "Oddly enough, while there is some excitement in anticipation, now that 'A' day is finally so near, still the entire task group, with preperations completed, is more calmly relaxed than at any time since we left."
Lt. Everingham said, in closing, he wanted to get off some more letters so they would be in time for the special stamp cancellation. He closed by saying he would have to get to bed soon as he "must be up and atom" early tomorrow. The letter to Syracuse arrived in eight days.
His wife, the former Mary Alice Hughes, a graduate of Syracuse university, flew from Washington to meet him and is now in Honolulu.
Lt. Everingham is a 1935 graduate of Syracuse university and was formerly physical director of mathematics at Central high school and with the Sun Oil Co. He entered service in June, 1942. He expects to return to the U.S. in October.
1950 Buffalo News article about 36 year old physicist, Lloyd R. Everingham.
1952 Buffalo New York Courier-Express, Thur, July 3, 1952
"Weathermen aid in cutting plane crashes... The probability of airplane accidents due to bad weather is being sharply reduced by increasing accuracy in weather reporting and forecasting, Lloyd R. Everingham declared yesterday at Hotel Statler. Everingham, assistant director of the Cornell Aeronautical Labratory here, made this obserbation prior to his talk at the 117th annual meeting of the American Meteorological Society."
1953 Syracuse NY Post Standard, Monday, Jan 5, 1953.
"Cornell Lab Begins Research to improve air-ground support... The labratory has appointed Lloyd R. Everingham to help its program. he will have the title of tactical air manager. Mr. Everingham formerly was technical assistant to the director of the labratory. He will be succeeded in that position by John C. Kane."