fact sources and writings about this individual: from the research of Kevin Everingham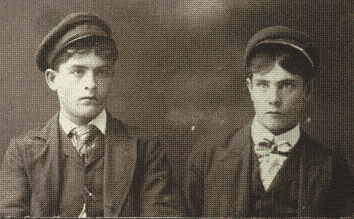 Photos from the "Charlie & Clara Everingham family" labeled; (l-r) Joe Norris & Charlie Everingham "cousins"
Michigan Birth record Mason Township, Arenac County, MI: Joseph D. Norris, male, b.8 Dec 1888, father; Daniel Norris b.CAN, mother; Martha Norris b.CAN.
Arenac County Marriage Cert. Joseph Norris, 18, s/o Daniel Norris,... m.21 Feb 1905 at Standish, Arenac County, MI., to: Pearl Kannell, 17, d/o Philip Kannell & Alice Perry
Arenac County Death Certificate, Vol D, Page 215, #39, Joseph D. Norris of Standish, b.8 Dec 1888 at Maple Ridge, d.18 Sept 1961 Arenac Comm Hospital, occ: Retired Postmaster, married "Pearl Norris", fa: Daniel mo: Martha Ireland, burial Cedar Valley cemetery, Twinning, MI. Informant; Vern Norris, Saginaw, MI.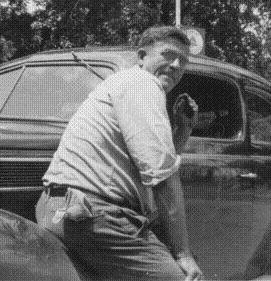 (right) a later family pic of Joe Norris.
1910 CENSUS Turner, Arenac, MI family #40, Page 4, Joseph Norris, 22, Pearl, 22, Oswald 4, Verne 3, Fremont 6m.
1917 WWI Draft Registration #130... Joseph Norris 30, of 764 Carton, Flint, MI.. born 8 Dec 1886 at Maple Ridge, Arenac County, MI.. occupation; Machinist, Buick Motor Co., married, 3 children under 12... Registrar's Report; 6 feet tall, Stout, gray eyes, dark brown hair... at Genesee County MI, June 5, 1917.
1920 CENSUS Genesee County, MI, film #1820765, Sheet 9, Joseph Norris, 32, Pearl 31, Oswald 14, Vern 12, Fremont 10, Philip Kannell 57 fa-in-law, widowed, Viva Kannell, 20, sister-in-law, Hilfred Kannell, 18, sister-in-law.
1930 CENSUS Turner, Arenac Co. MI, EnDist#16, Family #28, Sheet 1B, line 91,... Joseph Norris, 43, Pearl, 42, Freemont, 20