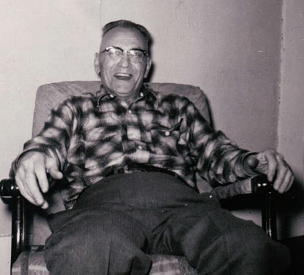 fact sources and writings about this individual:
Polaroid photo of Jobie (right) dated June 1956, and obituary sent to the family web site by Todd Bloom, March 2018. Photo found in his grandparents photos from Swanton, Ohio.

Information below is the research timeline of Kevin Everingham of MI, 2008-2011;

1896 Democratic Northwest & Henry County News, Napoleon, OH, August 6, 1896... "Little Jobie Evingham who has been suffering with typoid fever is on the mend." Jobie survived Typhoid at age 2. That same year, the first inoculations were developed against Typhoid, but the first serious treatment wasn't developed in America until 1948.

1900 CENSUS McClure Village, Henry, Ohio (EnDist 22, Page 4A, family #78) ... Lovian Everingham, b.Feb 1860 OH, widowed, mother of 8, 6 children living, father born in PA, mother b.OH,... Pearl Everingham, b.March 1882 OH, son,... Bertha M. Everingham, b.August 1883 OH, daughter,... Orley Everingham, b.March 1885 OH, son,... Jobie Everingham, b.Feb 1894 OH, son,... Lloid Everingham, b.Dec 1898 OH, son,... Arthur Ervwin, b.Jan 1876 OH, son, parents b.OH.

1910 CENSUS Henry, Wood, OH ... Leray Weaver 61,.. Losina E. Weaver 50, wife, b.OH,.. Johnnie L. Weaver 6, son,.. Jobie J. Everingham 16, step-son,.. William L. Everingham 11, step-son.

1914 Calhoun, MI Marriage (vol1, pg 314) grandmother of Jobie according to 1930 Census Augusta Cherry Batdorf 62, b.1852 in Milan, OH, prev marriages; 3, d/o Chas. Cherry & Alvira Witt,... married August 26, 1914 at Calhoun County, MI to... Willard Holstead 65, b.1849 MI, prev marriages;2, s/o Orrin Holstead & Martha Hughes.

1916 Fulton Co. OHIO Marriage Record ... Jobie J. Everingham 22, born in Henry Co. OH, s/o Mavow Everingham & Locina Frankfather, married;.. October 4, 1916 to... Dora Gingery 22, born in Fulton Co. OH, d/o Charles Gingery & Addie Sanders.
1916 Fulton County Tribune, Oct. 13, 1916.. (Page 5).. "(Marriage Licenses) Jobie J. Everingham, 22, farmer and Dora Gingery, 22, both of Swanton, Rev. Ed. Johnson officiating."

1920 CENSUS Fulton County, OH ... Jobie J. Everingham 26,.. Dora J. Everingham 26,.. Donald C. Everingham 10m,... Elmer Rokes 20.

1930 CENSUS Swan Creek, Fulton, OH (EnDist 19, Sheet 4A, family 96) John? Everingham 36,.. Dora Everingham 36,.. Donald Everingham 11,.. Augusta Halstead 79, grandmother, widowed.

1934 Ohio Death Record (vol 4, p3, #42) Augusta Halstead, b.1851 Ohio, housewife, widowed, daughter of Charley Cherry, died April 11, 1934 at Swanton, Ohio, age 83.

updated 2012::
1940 CENSUS Swanton village, Swan Creek Twp, Fulton, OH (Sheet 6B, #46).. Jobie J. Everingham 46, b.OH,.. Dora J. Everingham 45, b.OH,.. Donald Everingham 21, b.OH.

1942 WWII Draft Registration ... Jobie Jackson Everingham of Swanton, Fulton County, Ohio, born February 19 1894.

updated 2013 (Kevin Everingham):
1956 Raker Cemetery, Delta, Fulton County, Ohio... J.J. Everingham (1894-1956) no proof this is Jobie, but I believe it is... wife Dora's parents are also buried here: Charles L. Gingery (1868-1938), Addie P. Gingery (1875-1967).