fact sources and writings about this individual: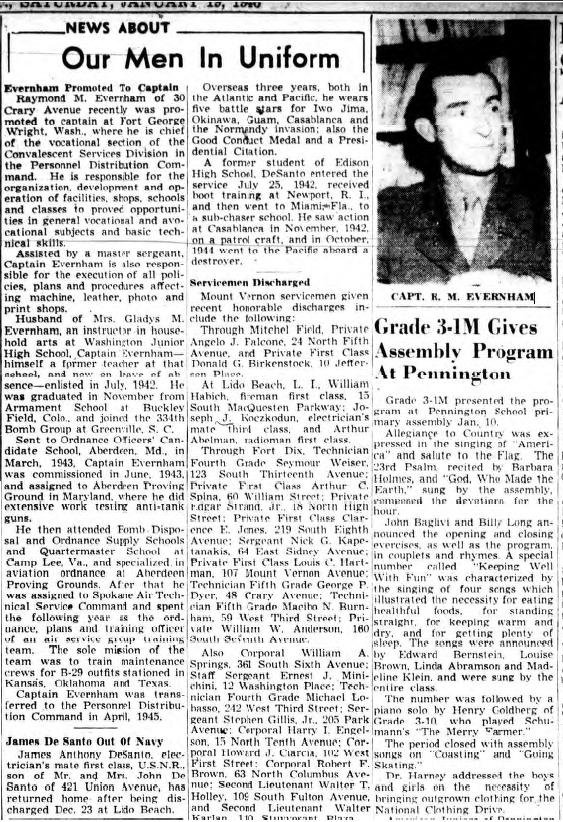 Sibling information from an "Evernham" family bible, from Nat Guistina, information updated by Tom Phillips, Sept. 2004.
---
research of Kevin Everingham of MI
1923 Marriage Record .. "Raymond M. Evernham 22, son of Grant Evernham & Kate L. Hoover,... married 4 Sept 1923 at Wayne, NY to Gladys E. Macdonald 22, d/o Eugene Macdonald & Rose Phillips."

2SSDI Social Security Death Index lists a Raymond M. Evernham (b.2 Mar 1904) "perfect match to the family Bible" d.15 Aug 1995 at Boca Raton, Palm Beach, Florida, SSN issued in Washington. The date of birth matches perfect, this is probably the right Ray Evernham. Name Raymond M. is from the SSDI record. SPECULATIVE NOTE: A Gladys Evernham (1901-1988) Also died at Boca Raton, FL She may have been his wife & is the only other Evernham listed from this town.
(Kevin Everingham)

1925 STATE CENSUS Rochester, Monroe, NY (Page 22, house #74).. "Ray Everham, 22,.. Gladys Everham 24."

1930 US CENSUS Mount Vernon, Westchester, NY (Sheet 4B, house #107).. "Raymond Evernham 26, b.IN,.. Gladys Evernham 29, b.NY."

1942 United States Army Enlistments, WWII... "Raymond M. Evernham, 10 July 1942, enlistment for duration of the war plus 6 months at New York, NY, white, born 1904 in Indiana. education; 4 years of college, married, Branch; warrant officers."

1944 Daily Argus, Mount Vernon, N.Y. Wednesday, May 31, 1944... Raymond Milton Evernham, ordnance Department of 30 Crary Avenue, has been promoted to first lieutenant.

1946 January News article about "Captain" R.M. Evernham

1946 September Marriage Record (#3, pg.85) Mineral County, Montana..."Raymond M. Evernham 42, s/o Grant Evernham & Kate Hoover,.. married 7 Sept 1946 at Superior, Mineral, Montana to; Marguerite E. Duncan 36, d/o William Hough & Elzada Acker."