children: TESTER


Scott A.

Craig

Eric

Scott's page is password protected for privacy of living individuals
Obituary:
SHERIDAN - Robert A. Tester, 73, Stanton, died friday March 23, 2001, at Copper Queen Hospital, Bisbee, Arizona. He was born May 1, 1927 in Toledo, Ohio, the son of Vern and Neva Tester. He married Elenore A. Myers Feb 14, 1953 in Detriot. Mr. Tester was a resident of Stanton area since 1965, formerly of Detroit, and spent several winters in Arizona. He graduated from Henry Ford Trade School. He was a World War II veteran of the Merchant Marines and a United States Army veteran of the Korean Conflict. A former employee of Gibsons and Federal-Mogul, Greenville, retiring in 1980.
fact sources and writings about this individual:

Residence: 3879 E. Shore Drive, Stanton, Montcalm County, MI
lived in Stanton from 1965-2001.


1940 CENSUS Detroit, Wayne, MI (Sheet 1B, family #14)... Vern Tester 47, b.OH,.. Neva Tester 37, b.OH,.. Robert Tester 12, b.OH.

click to enlarge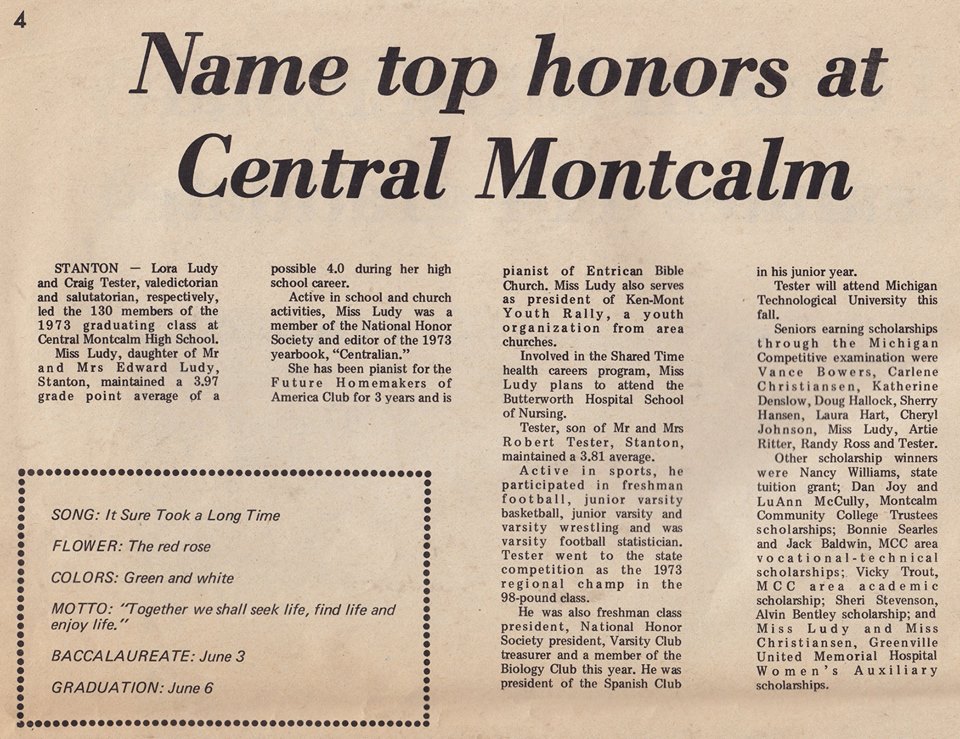 Craig Tester is a producer for The Curse of Oak Island TV show & makes appearances within the show as well. Before this role, he had a career in engineering, which is something that has helped out when it comes to his current involvement in the show. Craig's son Drake passed away in March of 2017 because of a seizure disorder that he has had since he was born. As a result, the people behind The Curse of Oak Island show have since paid tribute to Drake.
The Tester boys; Scott, Craig & Eric attended high school at Central Montcalm. Scott worked for the Meijer Corp. until retirement, Craig went into the oil and energy business, and Eric was a mailman.