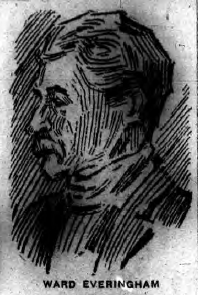 Sketch (right) of Ward Everingham from the Syracuse Herald, November 10, 1910... fact sources and writings about this individual:

11900 Onondaga census shows Ward's DOB as July 1851, single
2 NY lafayette deaths (d.1912)
31860 census Onondaga, NY

Research of Kevin Everingham of MI, 2009-2013;
1875 CENSUS of Lafayette, Onondaga, NY (Page 7, family #70).. George Sims 27,.. Rubie Sims 28,.. Burton Sims 2,.. Ward W. Everingham 24, boarder.
Lafayette Cemetery Onondaga Co. NY (d.1912, age 60)
1900 CENSUS Onondaga, Onondaga, NY (Page 1B, family #16).. Martha Marsh 67, b.OH,.. Charles A. Marsh 46, b.OH, son,.. Blanche Marsh 18, b.MA, granddaughter,.. Charles E. Marsh 15, b .NY, grandson,.. Ward Everingham 49, b.July 1851 NY, servant.

1905 Census, DeWitt, Onondaga, NY ... Ward W. Everinhgam, 53, servant

1911 Rome Daily Sentinel, Tuesday, Jan 31, 1911 .. "Guilty of Illegal Registration. Syracuse, Jan 31, Three of the men indicted by the January grand jury upon charges of illegal registration were arriagned before County Judge William M. Ross yesterday. Jacob Silvernail and Ward Everingham pleaded and Charles E. Bennor not guilty. All are inmates of the County Home. The first two will appear in court Saturday for sentence."

1911 Syracuse Herald, Sunday, February 12, 1911 ... "FOUR ARE SENTENCED FOR ILLEGAL VOTING Illegal voters received their punishment at the hands of Judge William M. Ross in County court yesterday, and four men go to the penitentiary to repent. Ward Everingham and Jacob Silvernail, aged inmates at the County house, were sent up for sixty days each, their age being taken into consideration by the Court. "

1911 Daily Sentinel, Thursday, April 13, 1911 (is this the same Ward? This would be about the time he got out of the penitentiary) ... "Rome, NY City Court.. Ward Everingham, a stranger in town, was arraigned in City Court this morning, charged with public intoxication. Ward had a discolored optic that looked as if it had come in contact with the sidewalk. He said he wanted to get to Oneida and get to work and sentence was suspended."

1912 The Syracuse Herald, Tuesday, March 12, 1912 .... "COUNTY HOME INMATE FOUND DYING IN ROAD, Everingham Expires in Hospital - Probably Result of Exposure, Physicians Say. Ward Everingham, 57 years old, who for the last seven years has been an inmate of the County home, was found lying unconscious in South Salina street about one-half mile south of Onondaga Valley shortly after 6 o'clock this morning by John Bailey, a milkman. Everingham was removed to St. Joseph's hospital, where he died at 9 o'clock this morning. The case has been reported to Coroner George R. Kinne, who will make an investigation and have an autopsy performed on the body. There were no marks on the body which would show that death was the result of foul play. There is a possibility that the man sank exhausted on the road and that death came as the result of several hours exposure. Everingham had relatives living near Rockwell Springs, and up to about ten years ago, he made his home there. In 1905 he was taken into the County home. From that time on he has been an inmate at the institution off and on. Last Saturday he told one of the officers at the home that he was going to leave. He left in the afternoon and had not been seen by the authorities since. This morning shortly after 6 o'clock John Bailey, a milkman owning a farm near the Indian Reservation, was coming into the city by way of South Salina street to deliver milk. When he was about one-half mile south of Seneca street, Onondaga Valley, he saw a man lying in the road. He pulled up his horse just in time to stop the animal from trampling on the body. Bailey got out and he recognized the man as Everingham. Bailey took the man in his arms and placed him in the wagon. He then drove with all speed possible to the offices of Dr. S. Ellis Crane of Onondaga Valley. The physician ordered his immediate removal to a hospital. St. Joseph's ambulance was summoned and Everingham was taken to that institution. He never regained consciousness."