Everingham Family History Record Reprint... (c)July 2000



Paul Everingham of Australia


Queensland Australian Republican Movement
Former Chief Minister of the Northern Territory.




---



A little History: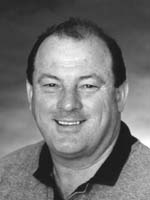 Aug 12, 1975
Les Macfarlane is elected Speaker of the Legislative Assembly and the Second Letts Executive of seven is appointed, with Bern Kilgariff briefly replacing Paul Everingham as Deputy Majority Leader of the CLP.
Sept 21, 1977
Paul Everingham is elected as Majority Leader of the CLP, succeeding Goff Letts.
June 28, 1978
At a special meeting in Canberra, the Prime Minister, Mr Malcolm Fraser, and Chief Minister Paul Everingham sign the Memorandum of Understanding between the Commonwealth and Northern Territory Governments which outlines the financial terms and conditions under which self-government will operate. It includes provision for special funding and recognises, inter alia, disabilities in the Northern Territory stemming from a small population in a large geographic area with a significant proportion of Aboriginal people living in remote communities.
July 1, 1978
The Northern Territory (Self-Government) Act 1978 comes into force, establishing the Northern Territory as a body politic under the Crown and giving the Legislative Assembly the power to make laws for the peace, order and good government of the Territory, to be administered through a Northern Territory Public Service and Treasury. The First Everingham Ministry of five which, together with the Administrator appointed by the Governor-General comprises the Executive Council of the Northern Territory, is sworn in.
Mar 27, 1980
The new $1.3 M Verburg Bridge at Adelaide River, replacing the low level crossing built in 1942, is officially opened by Chief Minister Paul Everingham.
May, 1980
Chief Minister Paul Everingham and Darwin Lord Mayor, Dr Ella Stack announce the development of the $38.5 M Beaufort complex in Darwin. It will include a performing arts centre and be constructed by the Malaysian company Burgundy Royale.
Jan 26, 1982
The Sixth Everingham Ministry of six is appointed, with members unchanged.
Dec 1, 1982
The Seventh Everingham Ministry of six is appointed, with members unchanged but with significant alterations to all Ministerial portfolios.
Jul 11, 1987
In the Federal election, the House of Representatives seat for the Northern Territory held since 1983 by Paul Everingham (CLP) is won by Warren Snowdon (ALP).