.
Everingham Family History Record Reprint... (c)August 2000


The Family hometown of Onaway,
Presque Isle County, Michigan
REPRINTED from several pages of:
The Everingham Family of Michigan
First Published 1999 Michigan Prime Publications
As you head east on M68 from Indian River at the center of Northern Mid-Michigan, Just 3 miles before you reach the town of Onaway, you pass through the small town of Tower that has nearly faded away. It was named in 1899, after Ellen May Tower, the first woman to volunteer her services to her country as a nurse and to be accepted. She traveled to New York to care for soldiers who were injured in the Spanish-American war, and then on to Puerto Rico. There she was stricken with typhoid fever and died December 8, 1898. Ellen was the first American woman to die on foreign soil in service of the United States.
Heading on past Tower you enter Onaway, a town that has been the cradle of many Everingham's for many years.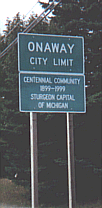 Most likely the first to select the Onaway area for a home was Thomas E. Shaw.....It was upon his farm which he located in 1881 that a large part of Onaway was later platted. In August, 1882, School District No. 2 was organized. ....Mr. Shaw was the first teacher, lining up a class of seven pupils that year. He was also the first hotel keeper and became the first postmaster in 1883. He held all the township and most of the county offices in Presque Isle.
Three years after Mr. Shaw's arrival came Merritt Chandler, a Michigan lumberman who is known by some as the "father of Onaway." In his explorations for the location of timber lands he drifted into this part of the state and was impressed with its stock. In 1884 he built a residence at Shaw post office, around which had sprung up a little cluster of houses. Mr. Chandler opened the first general store there, using a part of his residence to start, and in 1886 moved his family into the building.
From the records found so far, it appears that Ira and Louisa Everingham moved from Brant County, Ontario, Canada with their three sons and a daughter, to Michigan in 1885. Their oldest girl, Emma B. Everingham had died at 15 months old, in 1879 back in Canada. Belle was born in Canada in 1882, but Two more daughters Edith (b.1886) and Alice (b.1888), were born in Michigan. The only records found to pin-point the family's move to the Onaway area, shows them living there by 1906. All 3 of their girls are buried near Onaway. Onaway was incorporated as village in 1899 and as a city in 1903 which is probably about 3 years before the family arrived. Ira and Louisa faced another death of a child October 10th, 1907 when their oldest son "Rob"- Robert J. Everingham died of typhoid fever in Onaway, at age 27. He was buried in Arenac County.

In 1900, the census showed Onaway's population as 1,204, and by 1910, had grown to 2,702. In the early 1900's, the first young Everingham's to the area had married. The oldest boy, Ernest George, who was known as George Everingham married Maggie Rickard and started a family.
Their children were; William George, Kenneth Lyle, Lulabelle, Ira , and Percy. (more info about these families in the book, and on this web site!)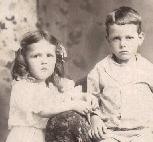 Ella & her brother Willard
Graves, early 1900s.
The next oldest boy, Charles, known as Charlie Everingham married Clara Jane Graves at Maple Ridge, Arenac County, in 1905. The Graves family were close and twice related to the Everingham's. Willard Graves, Clara's brother, was a preacher who officiated some of the family weddings. Their brother George S. Graves married Charlie Everingham's sister Edith. Clarlie & Clara had 2 sons and 2 daughters. Both girls died very young and were buried at "Elmwood" cemetery in Onaway. Raymond, known as Dale was born in 1908, and married a local girl from Tower, Leora Morgan, in 1928. They operated a small grocery store south of Onaway on M33 in the 1940's and 1950's. Their children, raised in Onaway, included: Inez Marie, Lillian Ruth, Edith, Eugene, Neva, and Marvin.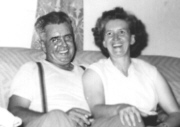 Dale & Leora circa 1930

Charles and Clara's other son, Clifford married Theal Neigh in 1942. Their children were Jane, Raymond, and Chris. Both Dale and Cliff Everingham, and their families lived around Onaway, and near Lansing during WWII, but later in life, moved to the Carson City and Crystal area of Montcalm County, Michigan. Charles and Clara would also move to this new area of Michigan. Dale and Leora started their own convience store in Butternut, just outside of Carson City in 1957. Their sons, Gene and Marv were both business minded entrepreneurs. Gene would later return to Onaway to purchase one of the largest downtown buildings, that would house a Discount Goods & Grocery Store, following in his father's footsteps. (see store photo below)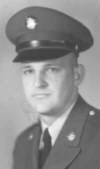 Joseph Prentler
Many family members worked at the Onaway Discount Store, including myself. Gene & Marv's sister Edith, managed the store with her husband Joseph Prentler. Edith and Joe were instrumental in expanding the store to include Sporting Goods. Edith was civic minded and the former chair of Onaway's Chamber of Commerce. When Joe Prentler died in Onaway in 1995, Edith moved away and later remarried. Marv Everingham moved back to Onaway where he married Tarry (Stearns) - south of Onaway, near a lake, "out in the woods" in 1982. They lived in town for a few years. They later moved near Tower. Tarry worked for Brewbakers in Onaway, and Marv started his own Sporting Goods store and was a township supervisor & assessor. He later worked for the Cheboygan newspaper until he retired.




Charlie Everingham
circa late 1890s
As for the rest of the earlier family generations,
Belle Everingham married William Stoner. The Stoner family lived around Onaway for a few generations. Most likely, anyone living around Onaway with the "Stoner" name, is a descendant of Belle & William.

Alice Everingham married Arthur Keller, and after his death, married local Onaway merchant Lorn Manning. The Manning's owned a store in Onaway, and cottages at Black lake.

The third sister Edith married George S. Graves. George was the Mayor of Onaway at one time.
Edith Everingham-Graves was widowed, and later married Ed Klein.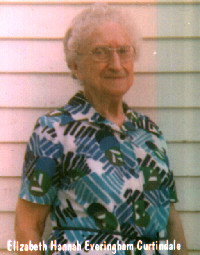 Elizabeth
Everingham-
Curtindale
(b.1891)
Onaway has been the hometown of a large group of the Everingham family in Michigan since the 19th century. At some point, Ira Everingham's distant cousin Jesse Owen Everingham who married in 1890 to Barbara Boyd King in Parry Sound, Ontario, moved to the Cheboygan, Onaway, and Ocqueoc areas. Jesse was granted 40 acres in a Government land grant in 1912. Their daughters Elizabeth married Cecil Curtindale, and Ethel Everingham married Joseph Grandmason. The early Grandmason family of Onaway, are buried in the cemetery in Onaway.

Jesse Everingham's adopted son Hugh Albert Everingham "birth son of Alice Everingham and Arthur Keller" died of typhoid fever in 1917 before his 14th birthday. Barbara and Jesse also had a foster child, a girl "Tena Smith," who took the last name "Everingham".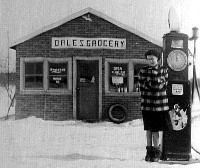 some may remember R. Dale Everingham's grocery store just south of Onaway circa 1940/50s?

Although not related in any way, Christina married an Everingham - "Kenneth" in 1925, son of George discussed above. At least one of Jesse's 13 siblings visited Northern Michigan and may have lived in Michigan.

The chief success of Onaway in the past, was industry and it relied on city mills and factories of mainly lumber and hardwood products. Of the earliest industries, Onaway's largest plant was operated by the American Wood Rim Company, of which E.J. Lobdell was president. They produced bicycle and automobile steering-wheel rims. The Lobsdell & Churchill Manufacturing Company also ran an extensive plant for the turning out of hardwood lumber. Onaway city became the trading center for a large district. Onaway realized a fair amount of business from the summer travel which traveled to her doors and passed through them into the secluded woodlands and lakes and streams in her immediate vicinity. For many years, it has been said that the Black and Rainy rivers are among the best trout streams in Northern Michigan. Local outdoors excursions to the Pigeon River country and huge local lakes Black, Burt, and Mullet, bring streams of vacationers. Hidden fishing treasuretroves like the floodwaters known by the locals as Mud Lake just a few miles outside of Onaway are a treat for the outdoors type. The industrial Onaway of the past would have suffered Tower's fate if not for being such a tourist magnet today.

Even today, Everingham descendants live in and around Onaway.

.

.