Everingham Family History Record Reprint... (c)September 2002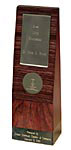 Great Living Cincinnatians
Leadership, vision, tenacity and love of community are the hallmarks shared by the recipients of the Great Living Cincinnatian Award, presented annually by the Greater Cincinnati Chamber of Commerce since 1967.
| | | |
| --- | --- | --- |
| | Lyle Everingham | Awarded in 2002 |
---
When Lyle Everingham was 21, emerging from an Army tour of duty in the South Pacific, he accepted a temporary job at the Krogerís in Adrian, Mich. Little did he know that, a few decades later, he would oversee the entire corporation.

"I started out stocking shelves," recalls Mr. Everingham, now 75. "It was to be a very temporary job until the fall semester of school." But the colorful shelves of Kroger became more attractive than the ivy-covered walls of academia for the young man, whose brother and four sisters also worked for the company.

"My brother (Robert) had done quite well, with the qualifications he had," Mr. Everingham says. "I thought, ĎIf he could, I could.í"

And could he ever. The ambitious young man rose quickly through the ranks, from store manager to district manager, general district manager and manager of operations, to became vice president of produce merchandising.

He was elected corporate vice president in 1965 and a board member in 1970. After serving as senior VP responsible for merchandising, store operations and distribution functions, he was elected Krogerís president in 1977, CEO in 1978 and board chairman in 1979.

Mr. Everingham, who retired in 1991, lives with his wife, Rlene, at Edgecliff Point and in Naples, Fla.

His numerous volunteer contributions include serving as a trustee of the University of Cincinnati and on the boards of Bethesda Inc., Cincinnati Milacron Inc., The Central Trust Co., Capital Holding Corporation and Federated Department Stores.

Mr. Everingham graciously deflects the spotlight to others. "Itís not me who should be recognized," he says. "Itís the people I associated with who allowed me to be identified as a contributor."



---
Article re-printed with permission via Bart Johnson, Director,
E-media, Greater Cincinnati Chamber of Commerce, September 2002.
Reference: Lyle, is the son of
Kenneth Lyle & Tena EVERINGHAM
born in Onaway, Michigan.