Everingham Family History Record Reprint... (c)May 2003
Thanks to Cornell University for allowing the re-print of their article.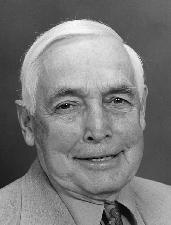 Robert I. Everingham, Sr.
Cornell University Class of '41
---
"As Andy Warhol once said, "Everyone will have 15 minutes of fame." So, I begin my 15 minutes, thanks to Bernie Potter who submitted my nomination.
Ah! Cornell! Its has been my life. There is a song that you marry a gal from Wells or Elmira (wow!), so I married Blanche 58 years ago in Sage Chapel just a week before the war. Afterwards, our daughter, Carol was born and later son, Robert, Jr.
So lucky am I - my father, William French Everingham and me, and my son, Bob, Jr., were all scholars of Cornell. Everything we learned from Ag Sciences & Economics and Dept. of Education has been applied to "Cascadale Farm", our family dairy farm for 7 generations.
It is with intrinsic pride that I was able to establish a scholarship in son Bob's name per year to endow a student in Ag. Sciences.
For the last 12 years, the Cornell Tower Club has been an outstanding extension of our devotion to Cornell.
Oh! I think my 15 minutes are up ~ but, this honor will last forever..."

Everingham has been a local and state leader in agriculture and education for more than 60 years. For 47 years, he was the sixth generation to own and operate the family's Cascadale Farm, a 200-head registered Holstein dairy farm in LaFayette, N.Y. Before retiring from farming in 1988, Everingham's farm was an outstanding example of the application of modern techniques and the educational concepts of heredity, genetics, and nutrition, which Cornell was proud to have as a working environment for its students.
In addition to running the farm from 1961 to 1980, Everingham worked full time as business manager for the Onondaga-Madison BOCES, including serving as business manager for the LaFayette Central Schools. His leadership in education has included serving for nearly 30 years (10 as president) for the Council on Rural Education. His work with the Council lead him to co-found the Rural Schools Program, a 40-plus board member organization that advocates for more than 300 small and rural school districts and BOCES systems and the students and communities they serve.
In agriculture, he served as chair for the Onondaga County Dairy Herd Improvement Association, president of his county Farm Bureau, and director and executive committee member for the New York Farm Bureau. Everingham served on the New York Dairy Promotion Board, the New York DEC Agricultural Advisory Council, the American Agriculturalist Foundation, and past director of the Onondaga County DHIC.
In the early 1970s he was director for the Farm Family Insurance Company, in addition to being secretary of the Morrisville College Council. Everingham was also chair and member of the Onondaga County Board of Health for 18 years and director of Chenango Mutual Insurance Company for 17 years.
Everingham joined the board of directors of Blue Cross of Central New York in 1963 and played a major role in streamlining, restructuring, and merging the company into Blue Cross Blue Shield of Central New York. Everingham served on the board for 19 years, including two as chair.
As an active supporter of Cornell and the college, Everingham served on the college's regional committee for the Cornell Campaign and was a member of the Class of 1941's 50th reunion campaign committee. In 1988, he and his wife, Blanche, established the Robert I. Everingham Jr. Memorial Scholarship Fund. Monies from the fund benefit animal science graduate students who show an interest in dairy cattle breeding and its economic implications. Most recently, he was a member and major donor for the rebuilding campaign committee for the Alpha Gamma Rho fraternity house.
In the local community, he is an elder at the Columbian Presbyterian Church, past master of Tully Masonic Lodge, assistant grand lecturer of Onondaga Masonic District, and on the State Department Council of Agricultural Advisors.
Everingham is the recipient of the Outstanding Service Award of the National Rural Education Association and received the Distinguished Service Award from the Rural Schools Program. He served two years in the U.S. Army during WWII and received the distinguished Purple Heart award.
He and Blanche live on the Everingham homestead in LaFayette near daughter Carol, a professor of French at Syracuse University, and daughter-in-law Pamela.
---
Re-printed with permission from Cornell University ©2003 (web site) & Sharon Detzer, Director of CALS Alumni Affairs