.
Everingham Family History Record Reprint... (c)2006
from a Detroit Newspaper approx. 1938


Photo of William "Henry" & Margaret (Long) Everingham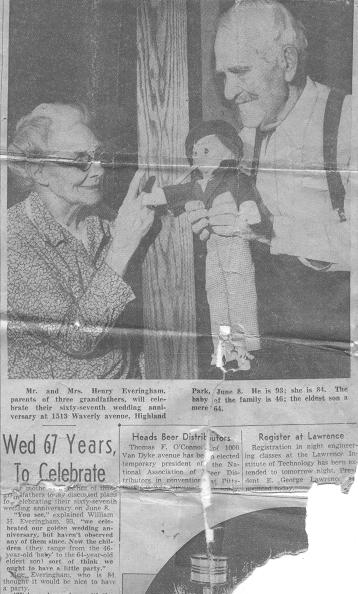 Re-Print:
---
Wed 67 Years,
To Celebrate
The mother and father of three grandfathers today discussed plans for celebrating their sixty-seventh wedding anniversary on June 8.

"You see," explained William H. Everingham, 93 "We celebrated our golden wedding anniversary, but haven't observed any of them since. Now the children (they range from the 46 year-old 'baby' to the 64-year-old eldest son) sort of think we ought to have a little party."

Mrs. Everingham, who is 84, thought it would be nice to have a party.

"We're so happy here with the kids," she smiled, referring to the children with whom they live at 1513 Waverly avenue, Highland park.

The children are: William Everingham, 64, who is a grandfather; George 62, and Wesley, 61, also grandfathers; Edward, 59, and Eugene, 58, bachelors, and Mrs. Ella Young, 46, the "baby".

The Everinghams came to the United States 31 years ago from Bothwell, Ont. Everingham is a net maker. For years he has been making the city dogcather's nets and also has turned out thousands of landing nets for Detroit fisherman. Despite his work, he doesn't wear glasses.
"I have some glasses around here somewhere, but I don't really know where they are," he explained.

Mrs. Everingham helps with the housework and is as active as her husband. Both listen to the radio and intensely interested in world affairs.
"Too many 'reds' these days" roars Mr. Everingham, "an' too many people telling how the country should be run".

The grand old couple have eight grandchildren and five great grandchildren.

"Never since our first baby came, have we been without youngsters around the house," Mrs. Everingham explained.



NOTE: This article was found in the family Bible of George & Maggie Everingham of Onaway, MI. George's father "Ira" was a first cousin of William "Henry". Ira's father "James (b.~1818)" was a brother of Henry's father "George (b.1815)". - Thanks to Faye Gee for sending this to the web site.