Everingham Family History Record Reprint... (c)May 2013




Inventive Farmer
Francis M. Everingham
of Onondaga, New York


While this is certainly not a biography of Francis M. Everingham,.. it is a little information about this New York farmer who held many patents in the late 1800's. I should start by saying that after over 20 years of genealogy and family research, I have found no proof of any connection to the farming Everingham family of Onondaga, New York,.. and my family of Niagara, New York and Canada. The lack of proof does not discourage me from believing that this family is indeed somehow related, but my inclinations really don't matter.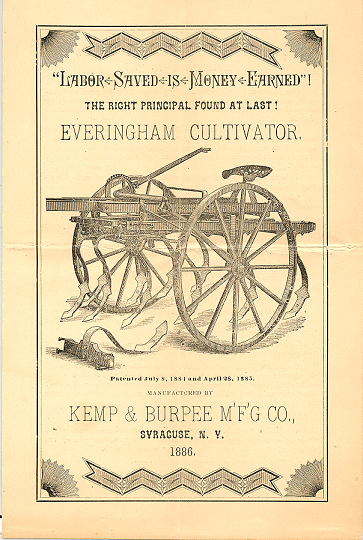 It was about 2008 when I first did a search of patents and found the name "F.M. Everingham".
I expected that this person was "Francis" of Onondaga County. Francis had and uncle Jeremiah Everingham who's 3rd great grandson was Lt. Col Albert Everingham, a decorated military man that I was able to call a friend until his death in 2000.
I didn't put much thought into proving this patent holder was "Francis" until I saw an auction posted in 2013 for an 1886 flyer printed by Kemp & Burpee Manufacturing Company of Syracuse, N.Y.
I thought that maybe this old flyer would be an interesting conversation piece to have framed.
When I recieved the item (shown here) I was intrigued and had to learn more. I had previously read in various records at how prosperous and successful the Everingham family farmers were in Onondaga, New York. This invention of improvement gave a small glimpse of one reason why this family had such highly successful farms.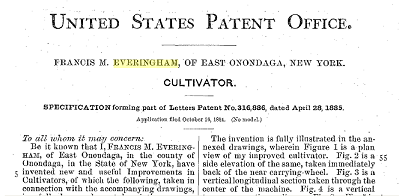 Record #316,886 at the U.S. patent office gives details about Francis M. Everingham's improved cultivator as well as diagrams of it's construction. Patent records are not terribly interesting themselves but they do give you an insight into the times.
This cultivator is certainly not the only invention that Francis came up with and many can be viewed by searching U.S. Patent records. He held patents for: An ajustable clothes Rack in 1867, A Harrow in 1887, A Road Scraper in 1887 which was an improvement on the earliest horse drawn road graders. In the 1867 Patent, he was listed as Francis M. Everingham of Collingwood, New York.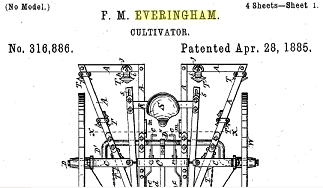 A later Patent in 1908 for a "Weeder attachment" further helps to prove who Francis was. It reads: "Be it known that Francis M. Everingham, late citizen of the United States, and a resident of Onondaga, State of New York, deceased, did invent a new and useful Improvement in Weeder Attachments to Cultivators, of which the follwing is a specification. This document is signed with the mark of (Maryette Everingham), Executirx of the estate of Francis M. Everingham, deceased."
The diagram pages of all of his earlier inventions were signed by Francis.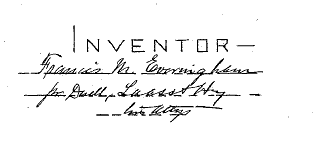 The back of the 1886 Flyer has the following testimonials about Mr. Everingham's cultivator;







information by
Kevin Everingham, 2013