Everingham Family History Record Reprint... (c)2014


Miss Jean Schuck Becomes Bride
In Michigan Wedding Saturday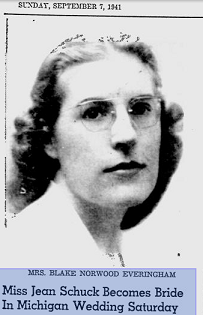 MIAMI DAILY NEWS
Miami, Florida, Sept 7, 1941
Miss Jean Schuck, daughter of Mrs. Eleanor Schuck of 3554 Palmetto Ave, Coconut Grove, became the bride of Blake Norwood Everingham of Pontiac, Mich. at 6 p.m. Saturday at Christ church, Bloomfield Hills, Mich., before 200 friends and relatives.
The bride's gown was of pale blush satin and tulle. A gown of tulle with lace inserts fashioned with tight bodice and bouffant skirt was worn under a satin redingote made with a fitted waist buttoned to a high collar and the long tight sleeves ended in points over the hands. Her pale blush imported illusion veil was caught to a juliet cap of net trimmed with tiny bunches of flowers.
Acting as her sister's maid of honor was Miss Mary Schuck who wore a gown of coral faille taffeta fashioned with tight bodice three-quarter length sleeves, square neckline and extremely full skirt. The bridesmaid was Miss Ann Schuck, another sister, who with the bride's mother flew to Michigan for the wedding. She wore a gown of similar design of turquois faille. Both attendants wore calots of velvet to match their gowns and short veils.
Mr. Everingham had John H. Metford of Pontiac, Mich., as his best man and ushers included John Linabury and P.K. Riksheim of Pontiac and Royal Oak, Mich, respectively. After the double ring ceremony, a wedding supper at Devon Gables was served to the bridal party and close friends. The young couple will be at home in Pontiac after a short wedding trip. The bride's grandmother, Mrs. George H. Gardner, of 1328 Astruria ave., Coral Gables, is in Pontiac until after the wedding. The bride graduated from Ponce de Leon high school and attended the Walsh School of Business Science and the Miami Academy of Art. Mr. Everingham is a graduate of Ridley Hall, St. Catherines, Ont., and attended McGill university, Montreal.