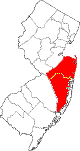 18th Century
Everingham Records
Relating to 4 counties
of New Jersey
location, location, location, by Kevin Everingham





---
Immigration 1703?



The earliest Everinghams came to the American Colonies in the late 1600's to early 1700's. One family legend notes that 3 brothers came to American (with their parents) in 1703. Another story says that William & Rachel (Cheshire) Everingham immigrated to America in 1703. We do know that William & Rachel were there & they had at least 2 daughters, but that is all we know for sure about them. Either way, the date 1703 comes up for the family's immigration to America. This means absolutely nothing, but it gives us a possible date to consider. I don't believe that any actual Everingham family record has been found in America prior to that date.




First off, I believe that most, if not all of the early Everinghams, Everngams, Evernhams, Evinghams, etc. from New Jersey, were related. If our name was Smith or Jones, we would could not say if they were related... but Everingham was not a common name in the 18th century and New Jersey is not a large State.




Monmouth
We begin with some of the oldest records... those of Monmouth County, formed in 1675. No proof, but family records note that William & Rachel (Cheshire) Everingham came here in 1703. Monmouth is just inland from Staten Island, NY where most all immigrants arrived. It also covered what is today split to "Ocean County". In 1728, Cornelius Everingham married Sarah Robbins here. She was 28 to 33 years old. In 1731 Henry & Thomas Everingham were taxed here. Other 18th century marriages here include: Joseph Everingham m. Mary Vaughn 29 Oct 1750, In 1758, A Joseph & a Wiliam Everingham are listed on Tax Lists. John Everingham m. Hannah Giberson 11 July 1761, James Everingham m. Sarah Drake 20 March 1762, and Hope Everngim m. Alexander Burk 27 APril 1799. Burlington & Monmouth counties are connected by an Everingham marriage below in 1736.
some early families of Monmouth: Gilbert Everingham | Ezekiel Everingham (b.1797) | Joseph D. Everingham (b.1787)

Burlington
Next, we have Burlington County, NJ, Right next to Monmouth. It was formed in 1681, one of 2 original counties in West Jersey. In Burlington, we have the widow of William Everingham of Monmouth, Rachel (Cheshire) Everingham marrying Richard Harrison on 21 Jun 1736. That license says that the Bride is from Monmouth & groom from Burlington County. I'm sure she moved to live with her new husband which brought some of her family over to Burlington County to live. In October of 1741, William & Rachel's daughter, Hannah Everingham, married Joseph Ivins. A year later, her sister Elizabeth married Solomon Ivins - 22 Nov, 1742. On 19 April 1751, Joseph Everingham married Louisa C. Leek. On 16 August, 1766, Mary Everingham married John Watson. On 11 Nov 1771, Hannah Everingham married James Page. In 1773, William Everingham married Abigail Sherrard. In 1777, William married Lydia Jones.
some early families of Burlington: Dell family | Enoch Everingham | James Everingame (b.1730) | William Everingham (b.~1745)

Middlesex
Immediately above Monmouth County is Middlesex County, NJ. It was formed in 1675, one of the original 4 counties in East Jersey. Not surprising, Everinghams seemed to have lived here also. In Septempber of 1767, a Charity Everingham married Cornelius Rowe. In 1802, Benjamin, John, Thomas & Thomas Everingham Jr. appear on Tax lists for E. Windsor Township in Middlesex County. Later, in 1807, Ann Everingham married Thomas Franch "French?" here and a Sarah Everingham married John Dillen. (I have no idea who they are).
some early families of Middlesex: Thomas Everingham (b.early 1700s) | Clayton Everingham | Joseph D. Everingham (b.1787)

Mercer
The exact location of James Everingham U.E.L. is not known, but some of his children are said to have been born in Trenton, Mercer County, NJ - right in the middle of the 3 previous counties. Mercer County was also across the river from Pennsylvania. Mercer was formed from Berlington and Middlesex Counties. The actual county was not formed until 1838. James and his family moved to New York & Ontario by 1786, So, James who was born about 1760, and his sons, had to have been born in Middlesex, Monmouth or Burlington County, with the other Everinghams.
Early families of Trenton, NJ: James Everingham (b.~1760) | Pearson Evernham (b.1800) | George Everingham (b.1848) | Amos B.Everingham (b.1840) | 1840 Mercer Co. Census



What does all of this mean?... It clearly shows that most of the earliest Everinghams lived within a 4 county connected area in the heart of New Jersey and were most likely all realted. If one family came to America in 1703, and their children were born in the 1720's and 1730's, then the next, (3rd generation) of Everinghams in America, were born between 1740 & 1770. Our research picks up with those 3rd generation Everinghams. We need to figure out who the first 2 generations were and how they were related. Currently, I can find no absolute proof, but I believe that we will uncover it. Many of the names mentioned above are not even known to some researchers and many of them are not even listed "yet" on the family web site.
Do I actually believe that all of these Everinghams in a 4 county area are related.... absolutely! Let me explain why:

In my own immediate family, just 3 generations back in time, my family lived in Niagara, New York, then moved to Haldimand County, Ontario, then Brant County, Ontario, Then Arenac County, Michigan, then moved 100 miles by horse & buggy to Presque Isle County, Michigan and finally moved 200 miles to Montcalm County, Michigan. I don't want to put on blinders and think that 4 connected counties in New Jersey where Everinghams lived for generations, and could have walked between, were not absolutely related. These people were there because they were family, and now we just need to prove it.
---
Do you have access to 18th Century
EVERINGHAM Marriage, Death, Tax,
Land, Will, Court or other records?
contact us ASAP, email your info!





BACK TO RESEARCH PAGE

&copy 2007 Everingham Family History Archives
and Kevin Everingham