Everingham Family History Public Record Reprint
---

Jesse P. Evernham
from "South Jersey History" pg. 64/65.
written in the 1950's

JESSE P. EVERNHAM--Primarily identified with the lumber and supply business, Jesse P. Evernham has for many years been regarded as one of southern New Jersey's ablest business men. He has headed a half-dozen separate organizations, and his skill in establishing, merging, and managing these various enterprises has indicated the highest calibre of executive and practical ability.
Born in Bayville, Ocean County, New Jersey on March 30, 1869, Jesse P. Evernham is a son of Benjamin D. and Naomi Jane (Phillips) Evernham. His father had followed the sea, and had been captain of a number of ships. Receiving a good practical education in the public schools of his native community, Jesse Evernham began his active business career by securing a position as clerk in a grocery store in Lanoka, New Jersey; this retail establishment being owned by ex-sheriff Jeffrey. The young man was interested in the construction field, however, and this he entered as soon as he could, striking out independently as a contractor and builder in Ocean County. He met with success there, and six years later established himself at Red Bank in Monmouth County. There he made his home and continued in the contracting business for a period of three years. He thereafter returned to Ocean County, and resumed his building operations there for another three years.
On January 21, 1901, Mr. Evernham joined the A. B. Newbury Company, a firm dealing in lumber, hardware and coal, and he became superintendent the same year. In 1905 he was made manager of the concern. In 1907 the firm was incorporated under the name of the A.B.Newbury Company, Inc., and at that time Mr. Evernham was made secretary, treasurer and general manager. He continued to hold these offices until 1923. A history of the region published in 1924 relates concerning Mr. Evernham and the firm:
He and his immediate family now own fifty per cent of the entire stock of the corporation and are the chief factor in it's steady development; this concern is today the largest and most up-to-date plant of its kind in Ocean County, having as part of its equipment a mill 60 x 100 feet, with all the latest electrically-driven wood-working machinery. . .

In 1911 Mr. Evernham bought the Bordon Iron's property on Main Street, Toms River, and during the same year commenced erection of a three-story-and-basement, hollow-tile, brick-front building, and there started the Toms River Supply Company, the first floor of the new structure being devoted to that company's purposes, the second floor being used for offices and a public library, and the third floor being laid out for lodge rooms. On March 7, 1914, the Toms River Supply company was incorporated, Mr. Evernham, the majority stockholder, becoming president at the time of incorporation. Marcus P.H. Mathews was named secretary, treasurer and general manager. Mr. Evernham has retained his position as president of the firm to the present time, but his corporate enterprises have continued to increase in number, as noted further.
In 1919 Mr. Evernham bought through the Toms River Supply Company, the Frank Aumack property on Main Street in the same city, adjoining the property occupied by the supply concern. In 1921 be built, on a part of the newly acquired property, another three story building of hollow-tile and brick-front construction, and there he launched the Economy Sales Company, which was incorporated in April 1922. This concern occupied the entire new building, and there its retail furniture business was carried on. The firm also dealt in job plumbing goods. At its incorporation, Jesse P. Evernham, majority stockholder, became president, while Cecil L. Irons was made vice president and manager, Ralph B. Gowdy secretary and treasurer, and Rilla E. Irons was also an executive and member of the directorate. Together, the Toms River Supply Company and the Economy Sales Company had a frontage on Main Street of sixty-four feet, and represented the finest store building to have been erected in Toms River to that time. Mr. Evernham disposed of his interest in the Economy Sales Company in 1941, and his son-in-law interest in the Economy Sales Company in 1941, and his son-in-law and other members of the family are its owner now. Both businesses, however, continue in operation at the same location.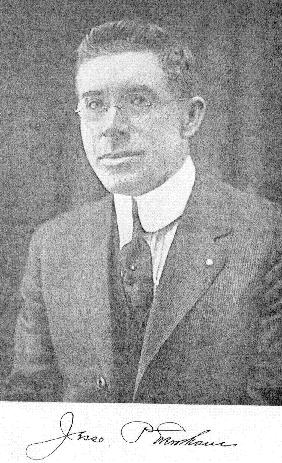 On September 29, 1931, Mr. Evernham acquired by purchase the Barnegat Lumber Company in the town of Barnegat. The name of this firm was changed to the Newbury Lumber Company, and he became its president. This firm also had a branch in Tuckerton. In the same year 1931, the A.B. Newbury Company bought the Charles Lewis Lumber Company at Seaside Park, and still owns it.
In 1936, Mr. Evernham separated the two branches of the Barnegat Lumber Company, and the Tuckerton branch acquired its independent identity as the Tuckerton Lumber Company. The Barnegat branch remained the Barnegat Lumber Company. Both were incorporated, with Mr. Evernham as president of the Barnegat Lumber Company. The Barnegat branch remained the Barnegat Lumber Company. Both were incorporated, with Mr. Evernham as president of the Barnegat Lumber Company, and Dr. Frederick Bunnell as president of the other concern, and Mr. Evernham as it's vice president. In 1940 the executive sold his interest in the Tuckerton Lumber Company to Dr. Bunnell, and the latter disposed of his own interest in the other firm to Mr. Evernham, who is it's treasurer at this time. His son-in-law, J.G. Phillips, is the principal owner. The firm is now located at Ship Bottom.
Mr. Evernham has retained as interest in the civic and fraternal life of his community. He is a member of the Junior Order of United American Mechanics at Toms Tiver; the Independent Order of Odd Fellows; and the Memohassett Tribe of the Improved Order of Red Men. These lodges too are at Toms River. He was for many years a member of the Toms River Yacht Club, and his religious affiliation is with the Methodist Church of Toms River, which her served as superintendent of its Sunday school for a period of five years. He was also, for two years, superintendent of the Sunday school at Bayville. In his politics, Mr. Evernham is an independent.
On January 21, 1891 at Toms River, Jesse P. Evernham married Laura M. Mathews of Cedar Creek, daughter of Captain Taylor and Cornelia (Britton) Mathews. Mr. and Mrs. Evernham became the parents of two children: 1. Rilla N., who was born March 13, 1893. She became the wife of Celil Irons of Silverton, and they have one son, Richard E. Irons, who is by profession an architect and engineer. 2.Margery M., born February 23, 1911. She married to J.G. Phillips, who for a number of years has been secretary, treasurer and general manager of the A.B. Newbury Company; they are the parents of two sons and two daughters; 1. Thomas G., born in 1931, a premedical student in college. 2. James Sawyer 3. Pamela, adopted and 4. Linda also adopted.





(c)1999-2000 Everingham Family History Archives