.
Family RESEARCH
Upper Freehold Records of New Jersey
Research by Tom Phillips, Bob Howey, & others
---
Investigating the relationship of LOCATION
to our earliest Everinghams of America.
The Old Yellow Church was originally called the Church At Crosswicks. Crosswicks was identified as the original home of the William Everingham who isn't linked to the Upper Freehold Everinghams!
Really the area can be identified as a kind of triangle encompassing where Windsor, Allentown (which is part of Upper Freehold, Nottingham ownship (which became Washington/Hamilton Township NJ) & Old Yellow church are. I am attaching a map which shows some Everingham locations. The important one is marked by a blue star next to Lake Assunpink which was the site of The Henry & Rachel Everingham homestead, or plantation as they were called. The red star close by (on Old York Rd) is the approx. site of George Evernhams home (son of Benjamin (b. 1764) who married his supposed cousin Lucy) and is only a few hundred yards from the Henry & Rachel homestead, but is in East Windsor. You may recall that one of the sons of Henry & Rachel was listed as Jeremiah Everingham from Windsor NJ. The red star up near Hightstown is where George's father & mother are buried. His mother was, according to some reports, born & raised in Allentown (another red star). The Old Yellow Church is located near the red star at the lower right on the map.

What is important to recall is that most of the roads you see on the map didn't exist in the 1700s. The only ones we can be sure of are marked in green lines.

some records to start:

Upper Freehold/Allentown NJ records
Permelia (or Amelia in some records) Everingham Married Wiliam Lawrence 9-17-1810 Upper Freehold
Anna Evernham Born 2-22-1800 Allentown
Anna Evernham Married Joseph Lawrence Imlay 11-18-1816 Allentown
Benjamin Everingham b. 8-1-1764 listed in East Windsor from birth to death thru Militia roles, Tax Records, witness to wills.
Elime Everingham Married Martha Smith 9-6-1818 Shrewsbury NJ (this is the part of Upper Freehold called Shrewsbury NOT the Shrewsbury along the NJ shore area.
Enoch Everingham of Upper Freehold witnessed Will of William Kimmins 7-15-1791
Jeremiah Everingham of Windsor NJ (Windsor spilt into East & West Windsro in 1796) described in Will in 1757 & 1760

Anyhow, once you start joining all of these things together you get a picture encompassing a circular area of less than 5 miles as drawn from the homestead of Henry & Rachel Everingham. That circle contains 100+ references & records referring to Everinghams from 1727 up to the present day. The sheer density of the name Evernham/Everingham in these church records, cemeteries, tax rolls, censuses, Wills & birth records contained within that circle at this time period exists nowhere else in any place in the world outside of England. Since 1727 the volume of the outward flow of Everinghahms who stayed in the area follows Old York Rd north & south of this location and west into Trenton.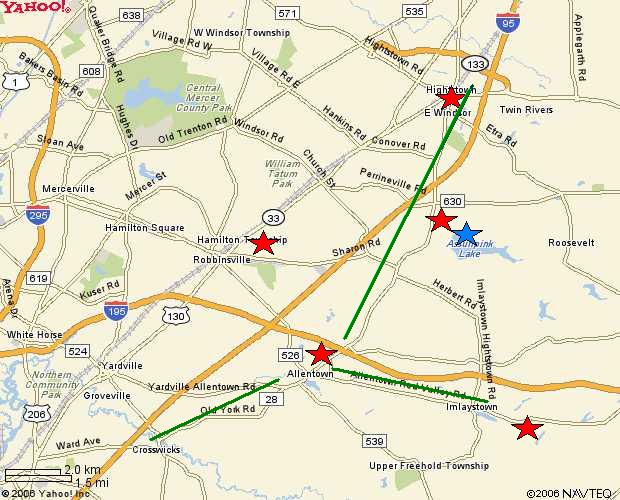 Again Occam's Razor indicates that the Everinghams originated in the US in this area, otherwise this volume of 18th & early 19th century records would not exist.
Tom Phillips, 2006
BACK TO RESEARCH PAGE

(c)2006 Everingham Family History Archives.