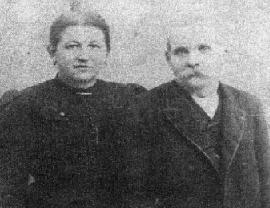 fact sources and writings about this individual:

Photo of Dora & Frank Beehler


& Frank's civil war papers and additional info, sent from Jean Beehler Harris June 2001.

Children's names and dob listed above from Frank's
own handwriting on a Bureau of Pensions form 1898.
2Pension Declaration Feb 1866
(age 27) born abt 1838
3Obituary April 1915, (age 77) born abt 1838
Owosso Argus Press April 1915;
Frank Beehler, a resident of this city for about 25 years, died Monday afternoon at 4 o'clock at his home, 1114 West River St. after an illness of only two weeks with heart trouble. He had been confined to his bed but a few days.
The deceased was born in Baden, Baden, Germany, 77 years ago and came to this country when a young man. In his earlier years he worked as a blacksmith. Surviving is his widow and the following children: Frank and Rudow (Rulolph?), Mrs EJ Payne and Mrs Mary Leffingwell, and Mrs John Ringling, residing East of Kerby; William of Benton, Ark., and Henry of Pontiac.
4 Petition for Naturalization says he emigrated in 1860 from Baden, Germany.... signed Oct 5, 1872. (information from Chris & Sue Nielsen May 2010)
In March 2010, the Nielsen's also found burial information: St. John's Cemetery, Beaver Co, PA.; Philip Brandenberger (1812-1889), Dorothea Brandenberger, and several other Brandenbergers, plus: Franz Buhler & Dorothy Brandenberger (couples plot).
---
NOTE on the BRANDENBERGER Family:
Family records at ancestry.com show that Dorthea was born Feb 5, 1842 Erie, Marion Twp, Beaver Co. PA and died June 30, 1919 in Shiawassee County, MI Her father was Philip BRANDENBERGER born Jan 6, 1812 in Germany died March 6, 1889 in Marion Twp, Beaver Co. PA. He is buried at "St. John's United Cemetery in Beaver County, Pennsylvania.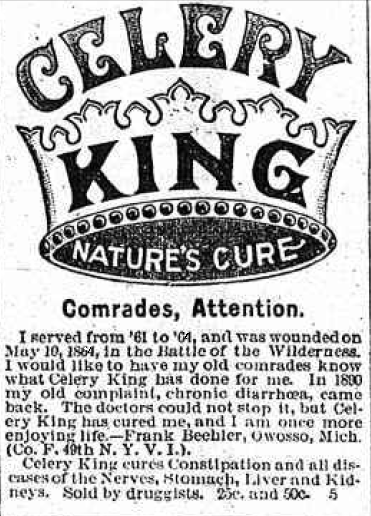 ---
Research of Kevin Everingham of MI 2000-2012;
Frank BEEHLER was born in Baden Germany, came to New York as a young man, entered the Military from Buffalo, NY. Mustered out of the military to Erie Pennsylvania, and later moved to Owosso, Shiawassee County, MI.

1870 U.S. CENSUS KcKean twp, Erie County, PA "earliest family census data" (Page 28, July 29, 1870, family #221)..."Frank Beehler 30, born in Baden,.. Dolly 28, b.PA,... Frankie 4, b.PA,.. Rufus 2, b.PA,.. Amelia 1, b.PA."

The advertisement shown here (to the Right) features the words of Frank, as he endorsed a miracle cure/remedy that he believed in.
Due to his war wounds, he was somewhat disabled and may have needed to endorse this product to help support his family. This may also have been a product that genuinely helped his condition. This advertisement and similar ads ran in New York, Ohio, Pennsylvania and surrounding areas in the late 1800s and early 1900s. The Ad shown here (click to enlarge) is from the Niagara Falls, NY Gazette, May 24, 1899.

In "The National Tribune Newspaper", Washington, D.C., July 23, 1891... under a section called "The Question Squad".. Veterans Anxious to Find Their Comrades, who can aid them! Frank Beehler of Owosso, MI is listed as one of the many people that former comrades were searching for.