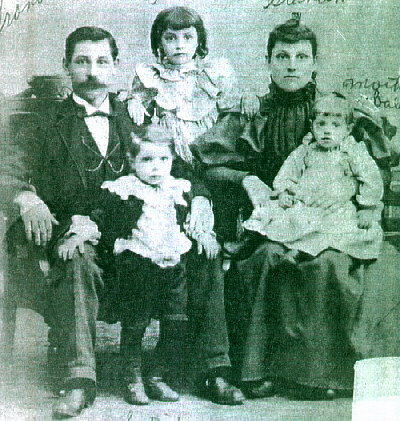 fact sources and writings about this individual:

Photo: Frank & Annie Beehler and 3 oldest children, girl in the middle is Gertrude. The boy standing in front is William.

Photo sent by Jean Beehler Harris June 2001.

Frank's death certificate (click to see): lived at 1110 Beehler Rd, Owosso.

2Death record shows Frank born in Penna. (PA?), Morgan family records had his place of birth noted as WI.,
however PA is probably correct.

see additional info on this
family in the book:
The Everingham
Family of MI, (c)2006

Research of Kevin Everingham of MI, 1999-2010;

1870 U.S. CENSUS KcKean twp, Erie County, PA ... Frank is first listed in Census data here with his parents, he is listed as Frankie, age 4, born in PA

1880 CENSUS N.Sewickley, Beaver County, PA (Page 3, family #22)... "Casper Rosenberger, 27, farmer,.. Sarah 24, wife,.. Amlia 8/11, dau,.. Frank Beler 14 laborer, b.PA." looks like Frank Jr. was working on a farm at age 14.
1880 CENSUS Pittsburgh, Allegheny, PA (page 313D, #2448) Chas. Zimmer 36, b.1844 Germany, manager/glass works,.. Mary Zimmer 36, b.1844 PA, wife,.. Annie Eisele 10, adopted, at school. different last name. (I have now seen this Census, it clearly records Annie as "Adopted"),... Research on this Zimmer family

1888 Allegheny County, Pennsylvania Marriage Register, Page 377 #11820, License issued July 23, 1888, married "same day". Frank's Occupation; Barber, both state they were not previously married.

still amazed that in the past 20 years of searching I still have not found them in the 1900 census.
1910 CENSUS Owosso, Shiawassee County, MI (Page 10, Family 197).. Frank Beehler 43,.. Anna E. 42,.. Wm. E. 19,.. Edna 16,.. Chas 14,.. John 13,.. Donald 10,.. Alice 8,.. Arthur 5,.. Elsie 3,.. Richard 4m.

1920 CENSUS Owosso, Shiawassee, MI .. Frank Beehler 52,.. Annie 51,.. John D. 22,.. Donald 20,.. Arthur 15,.. Elsie 13,.. Richard 10,.. Bernice 7.

1922 Shiawassee County, MI Death Certificate #5108... Annie I. Beehler, born in PA, died 23 April 1922... mother: Mary Hughes, father: unknown., cause of death; cancer of the liver.

1930 CENSUS Owosso, Shiawassee, MI .. Arthur L. Beehler 25, b.MI, parents b.PA,.. Winifred C. 23, b.MI, parents b.CANADA,.. Frank L. Beehler 64, born in PA, parents b.PA, widowed.

additional family information from relative Chris Nielsen, and the research of Vernon Dollhopf.