fact sources and writings about this individual: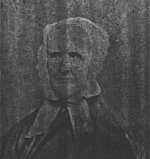 Photocopy of Margaret submitted by
Grant & Marge Hayes 4 Aug 1999

original found by the "Bernadine and David Arnold" family
in the family papers of "Clara Amanda Everingham"
Clara had written on the photo -- "my Grandmother Everingham".



1Margaret's birth 22 Oct 1793 /death:1880 Lawler, Chickasaw co. info from Bernadine Arnold 1999.

Family Search Info:
Father "Basnet Dell" died in 1832 in Louth, Ontario. Buried at Tom McCreadie's, Ontario
Margaret's Grandfather was:
Bassnett DELL b.1720- father of Margaret's Aunt Chloe- who married James Everingham.
What does this mean?.. Her husband's brother's & sisters were her in-laws, and her first cousin's!
Margaret's Great Grandfather was:
Henry DELL b.~1700 in Burlington, NJ, son of Richard DELL who was married in 1698 and died in 1724 (England)

2Margaret's sibling info from "Jesus Christ/Latter-Day Saints Family Search".
3Family Search shows: Margaret DELL b.1794 Willoughby Ontario, d.20 Jun 1879 Clayton, Iowa.