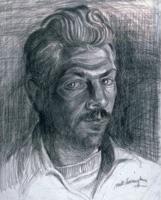 fact sources and writings about this individual:

1Research of Kevin Everingham, 1999-2003.
photo right: Labeled "The Awful Truth", a self portrait by Millard Everingham, circa 1940.

2Manlius Cemetery (burial; 1951) age 38,4,29.
Biographical Newspaper articles about Donald.

3Emails & Guestbook posting from Nancy McManus Prue May 2004. "a cousin". Birth and Death dates match cemetery record.
"I was checking through your research on Millard Everingham, from Manlius,Ny and His son Donald. His mothers maiden name is McManus. Mabel McManus Everingham. Mabel was sister to my grandfather. Donald and Ethel were cousins to my father. Dates were OK. But misspelled my aunts maiden name (not McMANCER) Millard and Mabel lived on Smith St, Manlius, NY, Ethel married Ralph Wainright, from Manlius, NY. Ethel was Librarian in Manlius, Donald was an artist and writer. Died 1951, alone and sad. Donald served during WWII in Italy, He had written articles about the war , in the Syracuse Post Standard. During 1945+ Hope this was of help."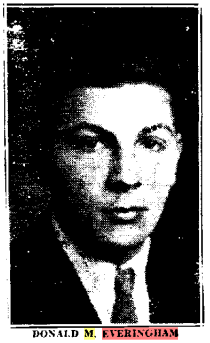 Fayetteville, NY Thrift News, Oct 21, 1937
Artists leave for work in Mexico.. MANLIUS, On Monday, Donald Everingahm of this village and Miss Betty Ellis started on a motor trip to Mexico where they will paint native scenes during the next six months. Both are graduates of the College of Fine Arts, Syracuse University. Mr. Everingham winning the Augusta Hazard fellowship award of $1,000 and Miss Ellis winning the Hiram Gee of $500.
Artist Everingham is the son of Mr. and Mrs. Millard Everingham of Academy street. He graduated from Manlius High School in 1929 and became interested in painting at the classes at Syracuse University.

photo right from this article -