Donald J. PETERS
S1, USN, WWII
b.2 Nov 1926 Flint, MI
d.4 Jan 2014 West Branch, Roscommon, MI
fact sources and writings about this individual:
Photo right - Don Peters from a newspaper clipping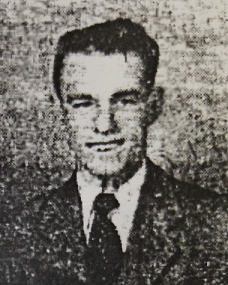 Information from the research of Kevin Everingham of MI, 2014;
2014 Houghton Lake Resorter, & Roscommon County Voice, Obituary - "Donald J. Peters, 87, Prudenville, died Jan. 4, 2014, at West Branch Regional Medical Center. A Celebration of Life service will take place in the spring at Great Lakes National Cemetery in Holly.
Born on Nov. 2, 1926, in Flint, he was the son of George and Ethel (Everingham) Peters. He served in the U.S. Navy during WWII. He married Gertrude "Trudy" E. Diehl on Nov. 2, 1946, in Flint. He retired from General Motors where he worked as a superintendent. The couple moved to Prudenville in 1977 and he enjoyed golfing.
Preceding him in death were his parents and wife, Gertrude E. Peters in 2004.
Surviving are his daughters, Linda (John) Lewis of Montrose and Jama (John Synder) Frechette of Flushing; son, Michael Peters of Battle Creek; grandchildren, Stacey (James) Shubert, Dana Cady and Wayde Frechette; greatgrandchildren, Chase, Tristan, Olivia and Alaina."