fact sources and writings about this individual:
photo right of Ethel, from a newspaper article.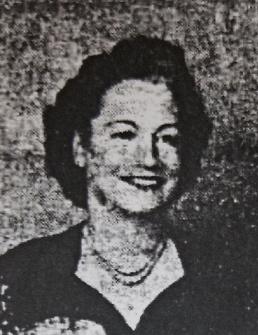 Information from relative Pat Viele
Married; George Peters, b 1899, d 1957, Married; Donald Pepper....I will have to find out if this union ended in death or divorce but she was not married when she died. She was quite a gal, the family said she was dancing into her late eighties. I did not know her well but she always impressed me with her perfectly coiffed hairdo and bright red nail polish, high heeled shoes etc.
NOTE FROM KEVIN - I have found no record of marriage to a Don Pepper yet.
---
--- research of Kevin Everingham, 2010 ---

1920 CENSUS Flint, Genesee, MI (image 00916, sheet 3).. William J. Peters 51,.. Anna A. 51,.. William G. 20, b.MI.. Fred C. 13,.. Henry J. 18.

1922 Marriage William Geo. Peters 22, b.Bay City, MI, s/o William J. Peters & Anna A. Kerick.... and .... Ethel Everingham 18, b.Turner, MI, d/o Robert Everingham & Rachel P. Velie,... married 1 April 1922 at Flint, Genessee Co., Michigan.

1930 CENSUS Flint, Genesee County, MI (Ward 7, Dist. 25-66, Sheet 69a)
George Peters, head, 30, married at 22, b.MI, occ: Mechanic at a garage, Ethel, wife, age 26, married at 18, b.MI, Donald, son, 3 4/12, Anna Peters, mother, 63.
This gives estimated dates of birth as: George b.~1900, Ethel b.~1904, Donald b.~1927, Anna b.~1867

--- research of Kevin Everingham, 2012 ---
1940 CENSUS Ward 1, City of Flint, Flint twp., Genesee County, MI (sheet 2B, family #42)... George W. Peters 40, b.MI,.. Ethel E. Peters 36, b.MI, wife,.. Donald J. Peters 13, b.MI,.. Rachel P. Rhodes 56, b.MI, mother-in-law,.. Gwendolyn J. Rhodes 27, b.MI, sister-in-law.