fact sources and writings about this individual:
Research of Kevin Everingham, 2000-2003.

2Lafayette Cemetery Onondaga Co. NY
1914 Post Card written by Edith to her sister Ethel.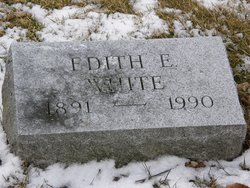 1990 Obituary Published in The Syracuse Herald American (October 21, 1990)
Edith Everingham White, 99, a native of LaFayette and a long-time resident of Nedrow, died Wednesday at Loretto Geriatric Center. Mrs. White was the daughter of George and Algena Hiscock Everingham, a pioneer family in the settlement of LaFayette. She was an active member of Rockwell United Church and St. Paul's United Methodist Church. She graduated from Cortland Normal School and taught in Romulus, Phelps, and Fairport. She married George White in 1924. He died in 1972. Surviving are a niece, Helen Thompkins Seymour of Bellona; two grandnephews; and one grandniece. Services will be at 11 a.m. Tuesday at Hall Funeral Home, 6033 Cherry Valley Road, LaFayette. Calling hours are 10 to 11 a.m. Tuesday at the funeral home. Burial will be in LaFayette Rural Cemetery. Contributions may be made to St. Paul's Methodist Church, 2200 Valley Drive, Syracuse.