fact sources and writings about this individual: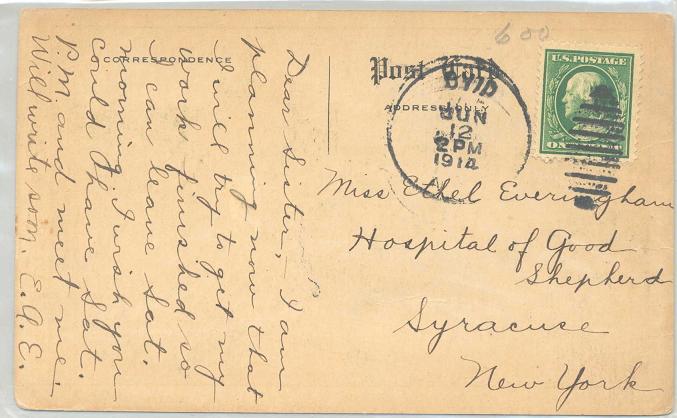 Research of Kevin Everingham, 2000-2003.
2Lafayette Cemetery Onondaga Co. NY
Postcard (right) written to Miss Ethel Everingham at The Hospital of the Good Shepherd, Syracuse, NY...(postmarked Jun 12, 1914) Ethel was at a medical training school and the postcard is signed by her sister "E.A.E".. this is twin sister Edith Amelia Everingham, (prior to marriage).
The House of the Good Shepherd was founded in 1872. After existing first at 90 East Fayette Street then at 80 Hawley Avenue, it moved in 1875 to a building (now Huntington Hall of Syracuse University) where it became known as the Hospital of the Good Shepherd.
1920 CENSUS Onondaga, New York (Sheet 5) ... Ethel A. Everingham, 28, b.NY, parents b.NY, single, living at the same place as about 24 other people.
1925 STATE CENSUS, Onondaga, AD02, ED06, Onondaga, NY (Page 2, line 26) George H. Everingham 69,.. Mary A. Everingham 59, wife, .. Ethel A. Everingham 33, daughter,.. 33, female,