fact sources and writings about this individual: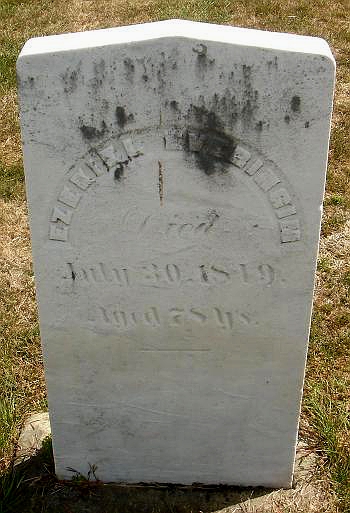 Research of Kevin Everingham, 2013;
1790 CENSUS in Dorchester, Maryland (page 443, line #13337).... William Everingim. This William may or may not be related but seems to be the earliest Census data showing the name "Everingim".

1820 CENSUS Hampshire, Virginia (Page 237)... Ezekiel Everingim

Hunts Corners Cemetery, Huron County, Ohio Headstone inscription: "Ezekiel Everingim, died July 30, 1849, aged 78 yrs." ... it is possible that the stone is worn enough that the year of death is actually 1849 but appears as 1819 which would make his date of birth 1741 to 1771.

I don't find him in many records!

Also in this same cemetery are these stones (hard to read)


Elizabeth Ann Everingim, (daughter of Peter & Jane Everingim, died March 23 1863?, aged 28y, 2m xxxd.)
Lewis James Everingim (very hard to read possibly died 1800/ or 1860?, aged 11y son of Peter)
Louis D. Everingim (can't read the rest.)

This gives Ezekiels link to Peter, and his father (Ezekiel) Revolutionary War soldier. Biography of grandson Thomas Everingim from History of the Western Reserve, Vol.3 by Harriet Taylor Upton, Harry Gardner Cutler, Lewis Publishing 1910. (Page 1495)... speaking of Thomas, "His father, Peter Everingim, and his grandfather, Ezekiel Everingim, were born and brought up in New Jersey. His great-grandfather, Ezekiel Everingim, served under Washington in the Revolutionary war, suffering all the hardships and privations of soldier life, and he died soon after the close of the war. "