fact sources and writings about this individual:

Research of Kevin Everingham, 2013.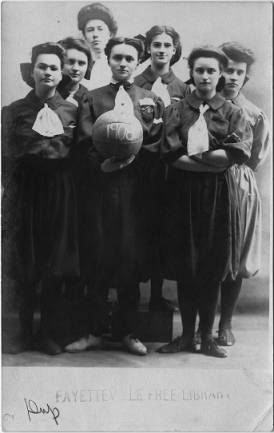 1892 STATE CENSUS Manlius, Onondaga, NY ... Millward Everingham 26, b.abt 1866, occ: Clerk,... Nettie Everingham 30,.. Grace Everingham 1.
1900 CENSUS Manlius, Fayetteville, Onondaga, NY (Sheet 5A, family #114, June 4, 1900)... Mill C. Everingham 33, b.Nov 1866 NY, occ: Merchant,.. Nettie Everingham 38, b.Dec 1861, wife, mother of 1 child, 1 living,.. Grace Everingham 8, b.Nov 1891 NY, dau.
1902 Death of Nettie. Syracuse Journal, Oct 2, 1902.
1908 PHOTO RIGHT -- first Fayetteville High School girls basketball team. (Grace, far right) - from the Fayetteville Free Library, photo collection File A4. - Six members of the first girls' basketball team "The Wide-Awakes" organized in Fayetteville in 1908. From left to right: Katherine M. Potter (Mrs.Peter Bain), Marian Dawley (Mrs. Morgan Lewis), UID (presumably the coach), Natalie Ecker (Mrs. Irving Perry), Ethel Potter, Leslie Dickerson (Mrs. Gordon Begent), Grace Everingham (Mrs. John Kenny). Grace was about 16 years old in this photo.
1910 CENSUS Manlius, Onondaga, NY (Page 12, family #325).. Millward C. Everingham 43, b.NY,.. Alice M. Everingham 33, b.NY,.. Grace O. Everingham 18, b.NY, dau.
1925 Feyetteville Bulletin, August 21, 1925... "Miss Grace Everingham, daughter M.C. Everingham, and John D. Kenney, both of this village, were united in marriage Friday afternoon at 5 o'clock at the home of the Rev. Claude Soares rector of Christ church, Manlius. Immediately after the ceremony Mr. and Mrs. Kenney left for a wedding trip in the western part of the State. Mrs. Kenney is popular in Fayetteville church and social circles. Mr. Kenney is an employee of the Everingham store and Commander of the local Legion post."
1928 Syracuse American, April 29, 1928... "Fayetteville Postoffice Man Awarded $6,000 John D. Kenney, World War veteran and assistant postmaster at Fayetteville, receives $6,000 from Frank H. Hale, well known Syracuse insurance man, as a result of a verdict returned by a Supreme Court Jury after hearing evidence for two days. He collects for injuries suffered when Hale's automobile struck him. According to the testimony, Kenney was stepping out of an automobile driven by a Fayetteville rural mail carrier near Hale's home on the Fayetteville rd. when struck"
1928 Fayetteville Bulletin, December 27, 1928... "Mr. & Mrs. M.C. Everingham entertained Mrs. Alice Steadman, and Mr & Mrs John D. Kenney, Mr and Mrs M.J. Gleason as their guests."
1930 CENSUS Fayetteville, Onondaga, NY (Sheet 19B house#52)... John D. Kenny 34, b.NY,.. Grace Kenny 38, b.NY.
1940 CENSUS Manlius/Fayetteville, Onondaga, NY (Sheet 21B, family #531).. John D. Kenny 46, b.NY,.. Grace C. Kenny 48, b.NY,.. M. Antionette Kenny 9, b.NY, daughter,.. Alice E. Steadman 87, b.NY, roomer.
1949 The Eagle Bulletin, Fri, Oct 21, 1949... "Mr. and Mrs. John D. Kenny announce the engagement of their daughter Miss Marie Antoinette Kenny to Albert Thomas Myers, son of Mr. and Mrs. Robert Myers of San Antonio, Texas. Miss Kenny graduated from Fayetteville high school in 1948 and attended Syracuse university a year on a scholarship honering her excellence in dramatics. She is now employed in the engineering dept. of the N.Y. telephone co. Mr. Myers served in the Air Force during the war."
1977 Eagle-Bulletin News... Obituary, July 28, 1977 ... "Mrs. Grace C. Kenny, 85, of 119 Redfield Ave., Fayetteville died July 25 in St. Joseph's Hospital. Her daughter, Mrs. Antoinette Myers, is director of pupil personnel services for Fayetteville-Manlius schools. Mrs. Kenny was the wife of the late John Kenny and was appointed to complete his term on the Manlius Town Board after his death. She became secretary to the supervisor for the Town of Manlius and served 10 years until October 1965 when she retired. She was a member of Fayetteville Trinity Episcopal Church, Fayetteville Chapter 197, Order of the Eastern Star and American Legion Auxiliary, Post 369. Services were held Wednesday in Trinity Episcopal Church. Burial was in Fayetteville Cemetery."