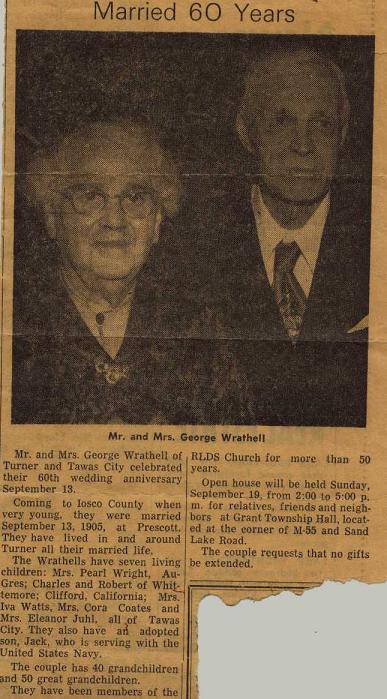 1965 Newspaper Article of son "George"
From papers of George's cousin Clara (Graves) Everingham.

fact sources and writings about this individual:

--- research of Kevin Everingham ---
1875 Ontario Marriage married 16,Sept 1875 at Lucknow, Ontario, Canada,.. Richard Wrathall, 24, s/o Richard Wrathall & Mary Jane Wrathall,... married to Elizabeth Victoria Grogan, 17, d/o Robert Grogan & Jane Grogan.

1877 MI Birth Record film #2320453, ...Agnes J. Wrathell, b.22 Apr 1877 at Bridgehampton, Sanilac, MI, father: Richard Wrathell b.CAN, mother: Elizabeth Wrathell, b.CAN.

1878 MI Birth Record film #979464, ...Anna H. Wrathall b.22 Dec 1878 at Sanilac, MI, father: Richard Wrathall, mother: Elizabeth.

1882 MI Birth Record film #2320694, ...George Robert Wrathell, b.13 May 1882 Sandusky, Sanilac, MI, father: Richard Wrathell b.Bridgehampton, mother: Elizabeth Victoria Grogan b.Bridgehampton. (photo copy of County register) George is registered below his cousin George S. Graves; it appears that there was an affidavit to ammended or correct this record in 1949.

1901 Turner, Arenac MI Death Record B51829-7 source#1006675 ... Elizabeth RABEL (sp?), d.16 Jul 1901 at Turner Township, Arenac County, MI, age 40, housewife, married, fa: Robert Grogan, mo: Jane McIntosh.