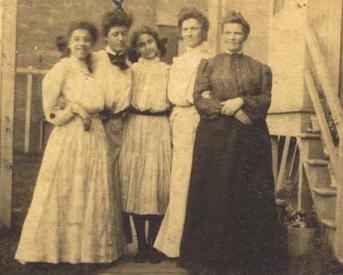 (l-r) Bella Werbe, Clara Graves, Eva Werbe,
Ella Grogan & Mrs. Zimmerman
from the photos of Clara (Graves) Everingham.
photo taken near Detroit, MI .. (see 1900 census)
fact sources and writings about this individual:
--- Research of Kevin Everingham ---
1870 Michigan Birth Record C00752-7 ... source film #981987 Ella Otillie Moeller, f, b.2 Oct 1870 at Winsor, Huron County, MI, daughter of Henry Moeller & Friedericke Julie Anna Loeffelbein
1880 CENSUS Fair Haven, Huron Co. MI T9-0582, Page 65C ... Henry Muller, 56, b.Germany, married, farmer,...Frederika, 46, b.Germany, parents born in Germany, keeps house,... Maria 16 b.MI, Henry 14 b.MI, Ella 9 b.MI, William Kuhn, 27, single, b.MI, relationship "other".
1892 Michigan Marriage Record M01358-3,... film#983109 ... Robert G. Grogan, 25, b.NY, s/o Robert Grogan & Jane McIntosh,... married 11 July 1892 at Caro, Tuscola County, MI, to; Ella Moeller, 21, b.MI, d/o Henry Moeller.
1900 CENSUS Detroit, Wayne Co., MI, ... EnumDist 11, Page 9A, Home 134 ... Robert Grogan, b.Jul 1867 Canada Eng., parents born in Ireland, married 7 years, immigrated to US 1868,... Ella, wife, b.Oct 1870 b.MI,... Clara Graves, b.Sept 1883 MI, parents born in MI, single
Grandlawn Cemetery, Winsor Twp. Huron Co, MI, The following people are buried here:
Henry Moeller, b.7 Dec 1823 d.24 Jan 1905, Civil War vet,... Frederike Moeller, b.29 May 1834 d.5 Jul 1921,.. Henry Moeller, b.1863 d.1943,... Ida Moeller b.1876 d.1960. Cemetery records compiled by Robert B. LaBelle, Port Austin, Michigan, 1995