children: HALE
Claude (b.1906)3
Russell (b.1913)4
Pearl Edith (b.1916)
Howard (b.1919)2
Muriel A. (b.1923)2
Photo:


Back of photo,
in her own handwriting:
" Julia E. Macklin, taken when I was 8 years old. "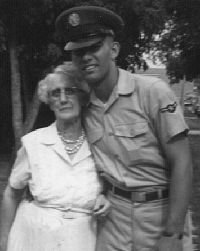 fact sources and writings about this individual:


Photo (right): Julia and a grandson Rex. Photo dated Aug 1965.


As most of us remember her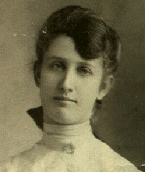 Photo left, young Julia.
see also: photo with her husband
on Avenial's page.
2Information from Muriel - 2000.
3Social Security Death Index;
(Claude Hale b.26 Nov 1906 d.Jun 1982 Lansing, MI)
4Social Security Death Index;
(Russell Hale b.26 Jun 1913 d.9 Oct 1999 Holt, Ingham, MI)
5From Gorsline Runcimen Funeral Card:
Julia E. Hale Mishler formerly of Hersey, born Aug 15, 1887 Marshall Co. Indiana, Died Oct 11, 1984 Lansing, MI. Interment Capel Hill Memorial Gardens. Casket Bearers; Kenneth Hale, Ronnie Platte, Ray Platte, Victor Arens, Lee Knowles, Carl Hale.