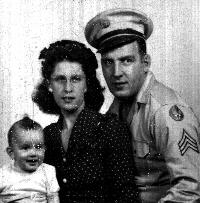 Richard pictured with first wife "Muriel" and first son Ron ~1945/6.

fact sources and writings about this individual:

Muriel A. Platte Matthews Walker Lansing Age 90, went to be home with her Lord on January 15, 2014 after a short illness. She was born in Hersey, Michigan, on June 14, 1923 to Avenial and Julia Hale. Muriel attended country school and moved to Lansing at the age of twelve. She graduated from Everett High School. She worked and retired from Sears and Roebuck in 1980. She was a Christian and was looking forward to going home. She is survived by son Ron Platte of Holt, daughter Claudette (Mark) Sabin of Sheridan and son Rex Platte of Las Vegas, NV; 8 grandchildren, Ronda Curtis, Bryan, Jason and Darren Platte, Leslie Jordan, Kevin Everingham, Laurie Coville and Raymond Platte, Jr.; and 14 great-grandchildren. She was preceded in death by her husband, Lyle Walker in 2009; her beloved son, Ray Platte in 2013; her 3 brothers, Howard, Russell and Claude Hale; and her sister, Pearl Hut. The funeral service will be held at 2:00 p.m. on Monday, January 20, 2014, at the Estes-Leadley Greater Lansing Chapel.