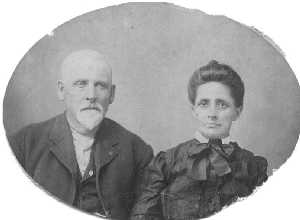 Photo Right: Daniel & Mary (Barr) Hale
fact sources and writings about this individual:

Info written by Roscoe W. Hale, July 1988:
---
Levi (Daniel's father) moved to Eaton county, MI about 1844 from upper NY State. He purchased land near Charlotte and raised a family there (listed above). Daniel and George served in the Civil War. Daniel was wounded twice and returned to battle after each. Daniel worked in the lumber woods and helped farmers clear their lands for farming & helped harvest crops in Mecosta County. Daniel married in 1866 and had 2 children. In 1869, both children and his wife died. He then moved to his father's home in Eaton County. Abt 1871, Daniel married Mary Barr of Benton, MI. He then returned to Grant Twsp. to resume his life.
---

Daniel served in the 7th MI Cavalry, Company D. during the Civil War, and is buried at Oakdale Cemetery in Hersey, Osceola County, MI. (actual 7th Cavalry flag shown here), Under George Armstrong Custer of Monroe, Michigan. This was the only Union brigade created completely of troops from a single State.
---
DATA SOURCES: Research of Kevin Everingham of MI, 2004 & 2010
Clara and Emma's birth dates from Mecosta Co. Birth records.
1Mecosta County MI marriage records: MARGARET CASTLE, DANIEL L HALE, 08 MAR 1866....Eaton County marriage record: (Film#966595) Daniel L. Hale,26 b.Orleans Co. NY, married at Charlotte, Eaton, MI license date: 3 Aug 1871, to Mary A. Barr, b.NY
2Levi Hale's information from the Genealogical Death Indexing System - Michigan, shows: Levi Hale died 24-Apr-1883 in Eaton County, age 71, married, occupation; farmer, Ledger page 196, Record number 129, cause of death; consumption, occupation; farmer, father's name; Levi Hale, father's residence: New York.
31876 Land Patent obtained from the US Department of the Interior, Bureau of Land Management Vol 303, Page 171 "Homestead" Daniel L. Hale, legal description: S1/2 of the Northmost Quarter and the southwest quarter of the northmost quarter of section ten in township six from N of Range nine in the District of lands subject to sale at Ionia, Michigan, containing 120 acres. (Michigan-Toledo Strip, Mecosta County).
41880 Grant Township, Mecosta County, MI CENSUS, page 2 & 3; Daniel L. Hale, age 39, a farmer, his father born in New York, his mother born in Vermont., Mary A. Hale - age 26, Clara - age 9, Wilber - age 4, Avenial - age 1. A daughter "Emma" b.1874, was NOT listed. She had probably died by 1880. That was probably a terrible scare for Daniel, after losing his first wife and children in one year. Daniel and Mary were born in New York, All children were born in Michigan.
5IGI File #2078183 agrees with all information above plus give Mary Barr's middle name as "Adelia" and gives a date of marriage as 5 Aug, 1871 in Charlotte, Eaton County, MI... which fits perfectly with estimated date of marriage of 1871 but the Marriage record gives the date of 3 Aug 1871.
1900 US CENSUS Chase twp, Lake, MI (Sheet 6B, house #144)... "Daniel Hale 59, b.NY,.. Mary Hale 48, b.NY,.. Iva Hale 17, b.MI,.. Ethel Hale 11, b.MI."
1911 The Eaton Rapids Journal, May 26, 1911
"Daniel Hale, a brother of Ezra Hale, of this city and Mrs. Welthea Bellows of Eaton, died suddenly of heart difficulty, near his home at Hersey early this week. He was seventy years of age and is survived by a wife and six children. Deceased was the son of Levi Hale, one of Eaton county's early pioneers. "
1911 Death Certificate, Hersey township, Osceola County, MI... "Daniel Levi Hale, male, white, married, born 14 April 1841, age; 70y, 1mo, 8days... died May 22, 1911, cause; heart disease, occupation; farmer, born in New York, father; Levi Hale, mother; Cyna Baker... burial; oakdale cemetery, May 25th, 1911., filed June 7, 1911."