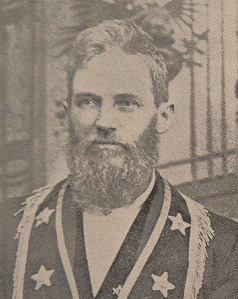 fact sources and writings about this individual:
much of this info from Ann J. Everingham 2000
Photo (right) of Dr. J.Everingham from Kevin Everingham of MI, 2014, photo taken circa 1870's.

1Lee County, Iowa Adjutant General's Office:
Joseph was a surgeon in the 7th Regiment, Iowa, Veteran Inf. Enrolled September 13, 1863, Discharged July 12, 1865 at Louisville Kentucky, Born in England, 34 years old, 5ft 7in, dark complexion, grey eyes, black hair.

2West Point, Lee County, Iowa City Cemetery:
Mary Everingham b.28 Mar 1789, d.23 Mar 1872. "She is buried in an above ground sarcophogus of brick and concrete", Matthew E. Everingham b.17 Sep 1833, d.7 Jul 1910, M.E. married Mary Loew Scott 10 Oct 1860 or 63?...Mary C. Everingham, only daughter of M.E. and M.I. Everingham 1864-1903.

3From the notes of Ann J. Everingham: Thomas Everingham left Beaconsfield England in 1840 and moved to Iowa in 1841 with children: Richard D., Joseph, Mary, and M.E. "Matthew".

4Notes from Tom Phillips, Jan 2005:
Joseph is listed as having been accepted to the University of Pennsylvania Medical School in 1857.
1874 Atlas Index; Landowners, Lee County, Iowa
Everingham, Jos. Pleasant Ridge Township
Everingham, M. West Point Township "Matthew ?"
---
research of Kevin Everingham of MI, 2014 - updated biography info 2018
1854 Joseph graduated from Eclectic Medical Institute, Cincinnati, Ohio June 10, 1854. source; his biography/obituary
1857 Joseph graduated from the Medical Department of the University of Pennsylvania, March 28, 1857. source; his biography/obituary

1858 U.S. Dept of Labor, Immigration and Naturalization Service... Joseph Everingham, Country of birth; England,.. Cert.# Vol.4, Pg.282, date of naturalization; May 5, 1858. Court at Dist., Madison, Lee Co. Iowa.

1860 CENSUS West Point twp., Lee, Iowa (Page 26, house #176).. Wm. Steele 61, b.KY,.. Nancy Steele 49, b.KY,.. John Steele 26, b.IL,.. Winfield Steele 18, b.IA,.. Henry Steele 16, b.IA,.. Susuan Steele 13, b.IA,.. Zacharias Steele 11, b.IA,.. Joseph Everingham 29, b.Eng.,.. Mary Everingham 29, b.IA.

Civil War Official Army Register of the Volunteer Force 1861, 62,63,64,65 (U.S. Adjutant-General's Office).. Joseph Everingham, Surgeon, 22 Oct, 1863.

1870 US CENSUS West Point twp., Lee County, Iowa.. (Page 15, household #114)... "Joseph Everingham 39. b.ENG, physician,.. Mary 31, b.IA,.. Thomas 8, b.IA,.. Luella 3, b.IA,.. Isaac Wood, 23, b.KY, clergyman"

1880 US CENSUS Butler, Bates, Missouri, June 2, 1880, (Page 8, Sheet 189D).. ."J. Everingham 49, b.ENG, practicing physician,.. M.R. Everingham 41, b.IA, wife,.. Lula Everingham 13, b.IA, dau,.. S.F. Everingham 7, b.IA, dau,.. Edith 3, b.MO, dau."

1883 Butler Weekly Times Newspaper, Butler, Missouri, May 23, 1883 (page 3).. "an advertisement for the National Bank of Butler County, lists Dr. J. Everingham among its board of directors. Another advertisement shows Everingham & Rice, physicians and surgeons, J. Everingham, M.D., office in Everingham's new brick west-side square."

1883 The History of Cass and Bates Counties, Missouri, 1883 (1405 pgs).."J. Everingham, M.D. prominent among the medical practitioners of Bates County, was born in Oxbridge, Middlesex County, England, April 7, 1831, and is the son of Thomas and Mary (East) Everingham. In 1840 the family emigrated to the United States and settled in Lee County, Iowa. His primary education was received in his native country and Iowa, and he was for a time employed as a clerk in a store. When eighteen years of age he went to Fort Madison, Iowa, where he served two years at the printer's trade. He also learned telegraphy, but followed it only a short period. In the fall of 1858 he visited London, England, and availed himself of the opportunities offered in the hospitals of that city for still better qualifying himself for his profession. In 1859 he returned to his adopted country and resumed the practice of medicine at West Point, and continued the same until 1862, when he was appointed assistant surgeon of the Seventh Iowa Infantry. The Doctor was married in the autumn of 1859, to Miss Mary R. Steele, a native of West Point, Lee county, Iowa, and daughter of William and Nancy (Jones) Steele, natives of Kentucky. "

1895 The Butler Weekly times, Oct 31, 1895, Page 1 ad.. "(Missouri State Bank), of Butler County, Missouri.. lists among stockholders; Dr. J. Everingham, and Edith Everingham.... Directors included; Wm. E. Walton."

1900 US CENSUS Mt. Pleasant, Bates, Missouri (Sheet 5A, house 109).. "Joseph Everingham 69, b.April 1831 ENG,.. Mary R. Everingham, 61, b.May 1839 IA, wife, mother of 4, 2 living,.. Edith M. Everingham 23, b.Oct 1877 Missouri, dau,.. Marvin Orear, 21, b.Aug 1879 KY, lodger."

1909 The Butler weekly times, October 21, 1909... "Golden Wedding. Miss Mary Russell Steele and Dr. Joseph Everingham were married at the home of the bride's parents in West Point, Iowa, October 20th, 1859, Rev George Johnston officiating. Last evening the fiftieth anniversary of this occasion was celebrated."

1910 US CENSUS Mt. Pleasant, Bates County, Missouri (Sheet 5B, house 128)... "Joseph Everingham 79, b.ENG, immigrated to U.S. in 1840, occ; Physician in general practice,.. Mary R. Everingham 69, b.Iowa., mother of 4 children, 2 still living. "

1915 History of Des Moines County, Iowa, Vol.1, S.J. Clark Co., 1915... "Seventh Regiment, Iowa Volunteer Infantry... field and staff.. Joseph Everingham, age 31, residence, West Point; nativity, England; appointed assistant surgeon August 20, 1862; mustered September 16, 1862; promoted surgeon September 13, 1863; mustered out July 12, 1865, Louisville, KY."

1916 The Alumni Register of the University of Pennsylvania, Alumni Society, 1916,... (Page 790).. '57 - Joseph Everingham, M.D., died at Butler, MO, December 25th, 1916.

1916 West Point cemetery burial, West Point, Lee co. Iowa. - b.7 April 1831, England, d.25 Dec 1916, Butler, Harrison County, Missouri. (Obituary)