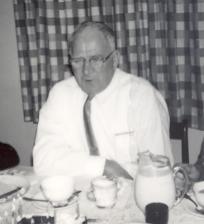 fact sources and writings about this individual:


1Information from the research of Pat (Everingham) Woodcock, sent Oct, 2006. More info on Jonathan L. Everingham;

Certificate of War Service # 249721; rank Private 208th Battalion;
Canadian Expeditionary Force: June 6, 1916.
Served in Canada & England with Young Soldiers Battalion.
Discharged at Toronto, Canada 24 December 1918 (reason: demobilization)
Medals & Decorations: British War Medal

ALSO SEE: Pat Woodcock's family page of research.
Photo from Pat Woodcock 2006., updated info 2018

2"Jonathan Leslie" identified via war records found by Kevin Everingham (Jan, 2002) at Canada's ArchiviaNet. It also notes his birth certificate for date of birth. (x) NOTE This paper is interesting because the Birth Cert data shows his date of birth which means, he joined when he was 16, and gave a date of birth to indicate he was 18.