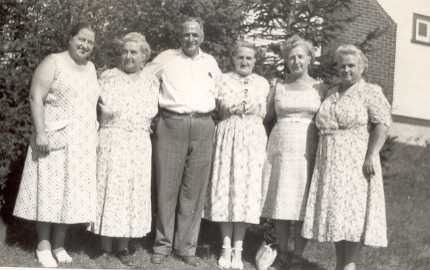 photo right from
Pat Woodcock, 2006
siblings (l-r) Millie, May, Jonathan, Rita, Anne, Eva
fact sources and writings about this individual:

1Info from Barb Curtindale in 2000, list of children expanded 2006 by records of Pat Woodcock.
2Marriage Cert #7141
Elizabeth Jane's dob from Roger Harris
---
3child "Jonathan Leslie" identified via war records found by Kevin Everingham (Jan, 2002) at Canada's ArchiviaNet. It also notes his birth certificate for date of birth. (x) NOTE This paper is interesting because the Birth Cert data shows his date of birth which means, he joined when he was 16, and gave a date of birth to indicate he was 18.

4Roger Harris data; Female, b.13 May 1905 Parry Sound Cert#34744/05, Death; 13 May 1905 at Parry Sound, Cert#22188. "stillborn", Hillcrest Cem., Parry Sound, Ontario.

5"Historic Cemeteries of South York Region" (web site) lists at The Holy Trinity Cemetery, facing East, a stone which is engraved: "In Memory of Henrietta Cain, wife of J. Everingham, died May 2, 1926, aged 60 years."

Various Ontario Birth Registrations, transcribed by Kevin Everingham, summary information only:
all listed as children of Jonathan Everingham & Henrietta Cane/Cain (listed in birth order)
Albert Francis b.22 Oct 1880 Lansdowne, Leeds, Ont.
David John b.2 Dec 1881 Lansdowne twp, Leeds, Ont.
Andrew Gordon b.27 Jun 1885 Gananoque, Leeds, Ont.
Jessie Owen b.23 Jul 1887 Gananoque, Grenville, Ontario
Evah Jane b.9 May 1893 Parry Sound, Parry Sound, Ontario
Muriel Etta b.12 Oct 1897 Parry Sound, Parry Sound, Ontario
Jonathan Leslie b.9 Apr 1900 Parry Sound, Ontario
baby Everingham b.17 Oct 1902 Parry Sound, Parry Sound, Ont.
Reta Elenor Malissa b.25 Feb 1910 Toronto, York, Ontario


1921 CENSUS Vaughan, York West, Ontario (page 14).. "Jonathan Everingham 66,.. Henrietta 55, wife,.. Mildren 13, dau,.. Retta 10, dau."