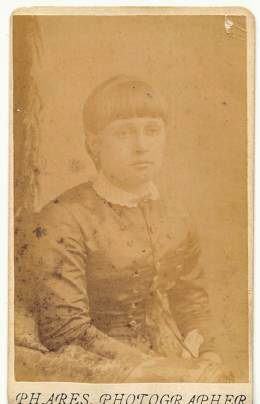 photo right- Kitty Everingham
fact sources and writings about this individual:

1cemetery records
2Onondaga Co. NY census 1880
in the 1870 Census, she is listed as Sophia, age 2
Birth info from descendant; Steven West, April 2015.
3Family Sketches

4Photo information: photo purchased at auction 2005 by Kevin Everingham Back of photo says: Phares Photographer, 100 South Salina Street, Syracuse, N.Y.
(hand written - Kit Everingham, Onondaga Co., father Albert ", mother was Helen, sister to Jamaliel Bailey, Helen's mother; Amy Woodmansee Bailey.)

interesting Census data:

1892 NY State CENSUS image Onondaga, NY ... lists Kitty West 24, Clarence West 5 & Albertus Everingham 3 (?probably Albert West?)
---
1900 Onondaga, Onondaga Co. NY CENSUS, Dist 12 / 74 Sheet 8A, #196/202 Albert Everingham b. Jul 1840, age 59 b. NY, farmer, Hellen, wife, b.June 1838 NY, 61, mother of 3 children, 3 living, Clarence West, grandson, b.1888 NY, age 11, at school, Bert West, grandson, b.1890 NY, age 10, at school.

1910 NY Onondaga, Onondaga, NY CENSUS ... Albert Everingham 80, Hellen 72, William 42, Bert West 20

Research of Kevin Everingham, 2014
1889 The Daily Courier, Wednesday, July 17, 1889... "An unfortunate family quarrel occured here Monday which it is feared, may terminate fatally. Guy West, about three years ago, married Kittie Everingham, daughter of Albert Everingham. The union did not meet with the approval of the bride's parents, on account of the youth of the couple, and a runaway marriage was the result. West was about 20 years and his wife about 16 years of age. They went to keeping house on the West farm, about a mile north of here. A short time ago she took her child and went home to her parents. Monday morning Guy West went to his father-in-law's house to see his wife and child. The family interfered and a quarrel ensued, and Arthur Everingham, a brother in law, took a hand in the fight. West was violently pushed off the stoop. Everingham then took up a brick and threw it at West, striking him on the head, fracturing the skull. Dr. J. Koeeland was called and says that the injury may prove fatal. No arrests have been made yet."
1889 Syracuse Weekly Express, Thursday, July 24, 1889... "A family quarrel took place last week at A. Evringham's midway between Cardiff and South Onondaga. Some four years ago, Mr. Evringham's daughter Kittie, aged about sixteen, was married to Guy West, about the same age, and a son of Casey West of South Onondaga. The marriage was a runaway one, both families being opposed chiefly because of the ages of the couple. No serious trouble occurred and the couple began housekeeping on Mr. West's farm. They recently moved into part of the house occupied by Mr. West Sr. The two women did not agree well and lately Kittie came to her father's with her child. Guy came to have her return. This she declined to do unless he would provide room away from his father's house, Mrs. Evringham took part in the conversation and young West replied rather impolitely, calling her a liar and other names. Arthur Evringham interfered and West dared him to the road. Stories as to which took the fist offensive move vary. West was pushed off the piazza and when he camp up again received a second push. Guy then came around by the steps when Arthur seized a brick and hit him on the head, which ended the struggle. Clains of fractured skill and broken jaw and perhaps fatal results are made, while other reports are that he is not seriously hurt."
1889 Syracuse Weekly Express, Thursday, July 25, 1889... "Guy West is improving and his recovery is no longer considered doubtful."
1889 Syracuse Daily Courier... "Guy West improving.. Guy West of South Onondaga, who was struck with a brick thrown by his brother-in-law, Arthur Everingham, two weeks ago yesterday, is improving. West did not live happily with his wife owing to the interference of her mother, who finally brought about the parting between them that she desired, and took her daughter with her young child home. West went to the house of his father-in-law to see the child, when young Everingham pushed him violently off the stoop, and then threw a brick at him, striking him behind the left ear, fracturing his skull. Since then West has been in a critical condition, and at one time it was thought his injuries were fatal. He is now able to sit up a little and partake of food in small quantities."