fact sources and writings about this individual: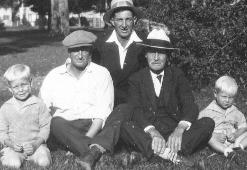 In the white shirt is "Adolphus Daniel Everingham", next to him, in the suit, is his father "Lyman Everingham" (white hat)

1Census Data
2Info from a letter written by "Lyman's" grandson's wife from Van Nuys, CA.
3Spouse info found at the Morman International Genealogical index file #1985478

1868 Huron County, MI marriage records April 5, 1868--EVERINGHAM, Lyman of Rock Falls age 21, b. Canada occ. Laborer to HORNER Angeline of Rock Falls, age 19, b Canada By John N. Tucker, JP witnesses--William T. Young & Marry A. Pangborn of Rock Falls.

1877 Chicago Daily Tribune, Chicago, IL, Feb 20, 1877.. "East Saginaw, Michigan, Feb. 19 - Two dwelling-houses at Oscoda, owned by John Gagnon and Lyman Evingham, were destroyed by fire today. Loss, $1,500, no insurance."

1879 Death Record .... baby girl Everingham b.1879 MI, d.16 December 1879 at Cadillac, Wexford County, Michigan, daughter of Lyman Everingham.

1900 Census of Michigan the above couple were living in Gladstone, Delta Co (upper Penninsula) He says he b. in NY state she Canada had at least 4 children, their son Adolphus b. April 1871 married ANNIE. they were living in Gladstone in 1910. Also in this census: Eliza b.1876 age 25, Bula b.1888, age 17, Lyman b.1886, age 14.
6Research of Kevin Everingham 2009: MI Death Certificate #787, Reg #51
1904 Lyman H. Everingham, d.9 Oct 1904 Gladstone, Delta Co., age 18y 10m., born 29 Jan 1886 at Reed City, MI, single, occ: High School boy, father: Lyman Everingham b. NY, Mother Angeine Horner, b. CANADA, cause: congestion of the Brain from Typhoid fever, place of burial; Gladtone, MI Oct. 12, 1904.