fact sources and writings about this individual:

1Genealogy pages of Robert Howey. "site has photos of many family headstones"
---

(Photo sent to the family web site of Louis & Mary Everingham (date unknown)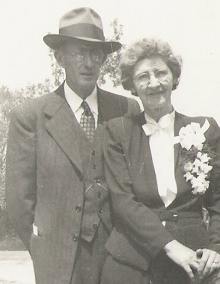 Heisler family Bible (owned by Sara Robbins Hoffman)
Louis B. Everingham was born Aug 16th 1893, son of Carrie Everingham,..Louis B. Everingham married to Mary L. Gandy, November 4th 1919,... Carrie S. Spence married Charles W. Everingham Mar 17, 1886.
---
Birth Certificate, 172-25-E18, Reel #121 NJ Archives. Unnamed child born to Charles Everingham, 34, blacksmith, and Carrie Spence, 34. Both parents born in US. Two children in all in the marriage and 2 living. Joseph Butcher, MD, Heislerville, Cumb. Co., NJ.
---
1920 US Federal Census Record, Digital microfilm, p. 120A. Maurice River Twp., Cumberland Co., NJ, Sup. Dist. 2002, ED 156, Sheet 10A, lines 15-17. Charles W. Everingham, 59, wheelwright, Carrie S., wife, Louis V., 26, son, laborer on farms, and Mary L. daughter-in-law, 29.
---
1930 Census Record, Louis B. Everingham household, Maurice River, Cumberland, New Jersey; Roll: 1326; Page: 11B; Enumeration District: 40.
---
Gravestone, Leesburg Methodist Church Cemetery, photographed (digital) 3/24/2002. Stones lists EVERINGHAM, Louis B. 1893-1972, Edith A. 1900-1991. (Robert Howey info)
---
email from Sara Robbins Hoffman, 2008;
"John Louis was probably the son of Louis B. Everingham. They called him "Lou" but I believe his name was John Louis Everingham. He had Alzheimer's Disease & died in 1989. To my knowledge he had no children."