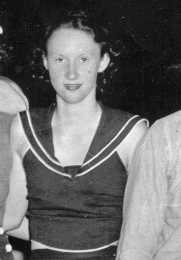 fact sources and writings about this individual:
Research of Kevin Everingham of MI, 2004-2009

Information from Robert DeHAVEN, Sept 2004, given to Kevin Everingham at Mildred Everingham's 90th birthday party. Bob's parents were: Amos & Leafy DeHAVEN.

according to Mildred & Percy in 1999;
"Lois lives in Florida in the winter, and in the summer lives near Black Lake - Onaway, Presque Isle county, MI."

Photo right; Young Lois Everingham at Onaway, MI.

Information about Lois from the book;
Everingham Family of Michigan, 2006:

2009 Social Security Death Index - "LOIS FAYE DEHAVEN 23 Jan 1922 | 09 Jun 2009 (P) 33844 (Haines City, Polk, FL) "