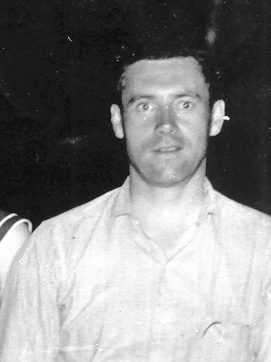 fact sources and writings about this individual:

Information about William Everingham & children given by Percy and Mildred Everingham of Onaway MI - 1999.

1902 Return of Births, Arenac County, Michigan, Page 125, #3009, September 27, 1902 "Georgia Irvingham", birthplace; Turner Township, father; Ernest George Irvingham, mother; Margaret Rickard, (both born in MI)... Georgia Irvingham is crossed out and "William George Everingham, filed 6-27-39" written in.

William and Barbara were employed as "Factory Hand" as early records indicate.

from the book: "The Everingham family of MI":
William George, known as Bill, was born September 22, 1902 in Turner, MI. Bill Everingham was the first born of George and Maggie Everingham. Bill married Barbara Siddle August 7, 1920 in Rogers City, Presque Isle County, MI. Marriage records show that their marriage was witnessed by John and Aura McKenzie. Barbara Siddle shows up in the 1920 Onaway City Census. The census shows Barbara Siddle living with somone named Emma Marriott, on School Street. Several borders lived with Ms. Marriott. Like some of the borders she lived with, Barbara was employed at the Rim Plant in Onaway. They later lived in Flint, where Bill worked as a foreman in the Chevrolet factory and by 1955, he had become a Manager. Barbara worked in different beauty shops. From 1953 to 1955 Bill lived in Saginaw but retained his job with Chevrolet. By 1956, Bill and Barbara were living back in Flint, and he had become the Plant Manager for the V8 engine plant, Chevrolet motor division of General Motors Corporation. He remained as plant manager into the 1960's.
In the 1920 Census Bill was living with his parents in Onaway, MI, & married later that year.
1Marriage records: Married by Rev Robert Bryce, pastor,...Witnesses: John and Aura McKenzie of Onaway, MI, married 7 August, 1920, Rogers City, MI.
1930 CENSUS Flint, Genesee, MI.. "Daniel G. Levely 26, b.MI,.. Gladys B. Levely 20, b.MI, wife,.. Frederick D. Levely 2, b.MI, son,.. Howard S. Levely 1, b.MI, son,. Barbara Everingham 27, b.MI, sister-in-law, married."
daughter Lois, age 8, was living with William's parents in Onaway, MI in 1930.
1930 CENSUS Flint, Genesee, MI (Sheet 16B, house #409)... Living with "Wainscott" couple,... William Everingham, roomer, 27, b.MI, married.
1932 Flint, MI City Directory, R.L. Polk & co. .. "at Cinderella Beauty Shop, Mrs. Barbara Everingham."
1940 CENSUS Kenmore, Tonawanda, Erie, NY (Sheet 4B, family #80)... "Wm. G. Everingham 37, b.MI,.. Barbara Everingham 37, b.MI, wife,.. Lois F. Everingham 18, b.MI., daughter."
1952 NEWS of the Tonawandas, N.Y., Monday, Sept 29, 1952.. "Chevrolet promotes man from town plant..The appointment of William G. Everingham as plant manager. Mr. Everingham is returning to Michigan from the Town of Tonawanda, where he has been general superintendent of production at the Chevrolet Aviation Engine Div. He was born in Turner, Mich. and joined Chevrolet in 1923 as a machine operator in Flint."
1958 Book; "STEEL" Vol.143, Penton Publ. Co. 1958... "William G. Everingham was made manager of Chevrolet Motor Div.'s V8 plan, Flint, Mich, General Motors Corp." This was also announced in the Courier Express, Buffalo, NY, July 2, 1958 & North Towanda, NY Evening Newspaper.
email from Beverly Poirier, Tucson, Az., January 2015
"Everone in the family liked Bill. He was very quiet. He smoked wonderful cigars. When Bill Lived in New York he would come to Flint on business and always stayed with Aunt Gadys. I think because she was a wonderful cook." see 1930 Census