fact sources and writings about this individual: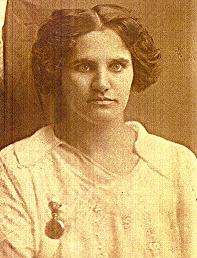 Research of Kevin Everingham 2013
Photo right, is Mattie when married to previous husband A.J. Donnelly, his first wife died in 1911 and Mattie married him and took care of his children, he died in 1935.
1900 CENSUS Kamakawa, Wahkiakum County, Washington (Sheet 5A #101)... Wm. H. Everingham 42, b.Mar 1858 PA, married 19 years,.. Carrie A. 36, b.Dec 1863 NY, wife, mother of 6 children, 4 living,.. Harry M. 18, b.Mar 1884 MI,.. Earnest 14, b.May 1886 MI,.. Earl S. 8, b.May 1894 WA,.. Lester H. 3, b.July 1896 WA.
1900 CENSUS Milan, Polk Township, Sullivan, Missouri (Pg.17B, family #397)... John N. Yardley 40, b.MO,.. Mattie J. Yardley 17, b.MO, daughter,.. George W. Yardley 14, b.MO, son,.. Goldie J. Yardley 10, b.MO, dau,.. Jay C. Yardley 8, b.MO, son,.. Roy L. Yardley 6, b.MO, son,.. Eddie Yarkley 3, b.MO, son. Mattie seems abt 10 years older here than she claims in 1940.
1918 WWI Draft Registration ... Lester Harold Evringham, 21 of 927 Wilson, Hood River, Oregon... b.18 July 1896 at Skamokawa, Washington... father born in New York... Employer; Mitchell Point Lumber Co., Sonny, Ore... nearest relative: Wm Evringham of 927 Wilson St. Hood River, Ore... blue eyes, red hair... signed 5th June, 1918.
1940 CENSUS Lapine, Deschutes, Oregon... Lester Ervingham 43, b.WA,.. Mattie Ervingham 47, b.MO, wife,.. Roy Yardley 44, b.MO, brother-in-law. see 1900 Census above, Mattie & Roy are listed.
Normal Hill Cemetery Lewiston, Nez Perce County, Idaho... "Lester H. Evringham b.18 July 1896, d.23 July 1958,... Mattie J. Yardley Evringham, b.10 Oct 1884 Green City, Sullivan, Missouri, d. Dec 11, 1963 Lewiston ID.... there are also (Donnelly) buried here, Mattie's previous husband A.J. and at least on of his children."