fact sources and writings about this individual: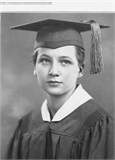 Research of Kevin Everingham:
1920 CENSUS Detroit, Wayne Co, MI Research of Kevin Everingham 2002;
Page 5A , Everingham, Frank, age 24, very hard to read, born in MI, worked in a factory, Jennie, wife, Marion, dau, Nellie Swackhammer, sister-in-law, age 24, occupation ???illegible???.
1920 CENSUS Pontiac, Oakland Co., MI Percy H. Hunt 38, Mable E. Hunt 34, Sherze W. Hunt 10, Leamon S. Hunt 9, Charles W. Hunt 7.
1930 CENSUS Detroit (districts 751-879) Wayne Co., MI .. EnumDist 797, Page 6B
Frank Everingham, 40, married, b.MI,.. Jennie, wife, 39, b.MI... Marian, dau, 13,... Virginia, dau, 9,... Frank, son, 5,... Stanley, son, 3,... William, son, (all kids born in MI)
1930 CENSUS Pontiac, Oakland, MI Percy H. Hunt 47, Mabel E. Hunt 44, S/Thirze 20, Leamon 19, Charles 17.
---
Marion's death info & thumbnail picture from the records of Erlene Dudley, 2011

Marriage information and children info from Mary Ellen Hermann 10-8-2011
"Lloyd Stephens Jr. was an architect and worked for Yamasaki & associates. He was a major designer on the World Trade Centers."